When Andrew Lisac called Achille Buzzelli's raise in the first betting round of a Texas hold'em hand Saturday afternoon at Hollywood Casino Toledo, the two men then smiled at each other and bumped fists.
And when the showdown revealed that the ace of diamonds dealt on the last card had given Mr. Buzzelli a higher-ranking flush than Mr. Lisac, who up until then had held the better hand — a pair of tens to Mr. Buzzelli's ace-jack — they bumped fists again while the dealer pushed the betting pot toward Mr. Buzzelli.
That sort of friendliness, players and casino staff alike said, sets the Ohio Deaf Poker Championship apart from the regular, open-to-anyone poker tournaments at the local casino.
"I like to go to any deaf events, because I meet new people, make new friends, and see old friends," James Carr of Indianapolis, one of many who drove for hours to compete in the tournament, signed through an interpreter. "The socialization is phenomenal, and it doesn't happen often."
"There are so many who travel. They feel isolated if they're alone with a hearing group," signed Mr. Buzzelli of Toledo, whose inquiry prompted the casino to begin offering occasional events restricted to people with hearing impairments with a tournament March 11. He is also a "host" there this weekend, when two deaf-poker tournaments are running.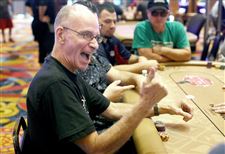 Deaf poker player Achille Buzzelli signs during the Hollywood Casino's "Ohio Deaf Poker Championship" tournament on Saturday.
THE BLADE/AMY E. VOIGT
Enlarge | Buy This Image
Mr. Buzzelli would end up winning the tournament and its $1,605 top prize when he made a pair of queens against a pair of tens held by Gabe O'Hicks of Richmond, Ky., on what proved to be the final hand just under nine hours after the event began. Mr. Lisac took third place, and fourth through seventh places in the 59-entrant tournament also received cash prizes.
The Ohio Deaf Poker Championship on Saturday had a $100 buy-in price, while an unnamed tournament Sunday will cost $60 to enter. The prize pool Sunday will depend on how many players enter.
Elliott Schecter, Hollywood Casino Toledo's poker room manager, said he had been approached by several deaf players who regularly play there about offering a special event for them.
David Smith of Belleville, Mich., also a "host" this weekend, said through the sign interpreter he had first inquired at several Michigan casinos but was turned down — typically on the grounds that they didn't have enough space.
"I really applaud Elliott for supporting deaf poker here," said Mr. Smith, who also emphasized the social aspect of playing with other deaf people. "With a deaf group, you get to meet a bunch of different people."
Mr. Schecter said he had experience managing the World Deaf Poker Championships at The Palms casino in Las Vegas and observed that outside of Chicago, there were few if any deaf events in the Midwest.
The March event in Toledo attracted 175 entries, including players from as far away as New York, Baltimore, and Texas, he said.
"I had no idea we'd get that many people to show up," Mr. Schecter said. "I was really, really thrilled with the turnout."
This time around, the poker room manager decided to offer separate tournaments on both weekend days.
Along with beautiful weather Saturday, the cheaper event Sunday may have cut down on the size of Saturday's field compared with the March tournament.
But players "were making a weekend of it. Why come all the way for just one day? We had no problem scheduling a second event," Mr. Schecter said.
Mr. O'Hicks and Billy Gulley, Jr., of nearby Danville, Ky., had also played in the March tournament.
"I really enjoyed playing poker here in March. I had a good time, so I came back," Mr. Gulley signed. "Deaf people tend to interact with each other more than hearing people do. It's more fun — there's a feeling of community."
And to Mr. O'Hicks, playing against deaf opponents is also is more of a challenge.
"Deaf people are more observant of what's going on around them. Playing against hearing people is easier," he said, because they don't notice subtle changes in facial expressions that can give away their thoughts.
Instead of speaking, most deaf poker players communicate using hand signals if motions with their cards or chips don't directly indicate their intentions. Most critical in that regard are an upward-moving thumb-up gesture that signifies "raise" and pushing both hands forward to declare "all in".
Compared to conventional players, those in the deaf tournament Saturday played relatively conservative, with many hands played through to a showdown after the last card was dealt rather than ending sooner because a player made a large bet.
Mr. Schecter said that too showed how the deaf tournament was a friendly, social game rather than the more aggressive, competitive flavor of regular tournaments.
Karen Miller, a poker dealer at the casino, said it's definitely harder to deal a deaf tournament because of the communication barrier, but added it's also fascinating to listen and watch.
"By the end of the [March] tournament, I actually knew some sign language," she said. "And if you're looking at them when you speak, they can read your lips."
Dominic DeSano, a poker room supervisor, said the players' mutual congeniality impresses him most. Even when they "talk smack" to each other, "it's all in good fun" and, unlike the open tournaments, players who have lost all their chips stick around to cheer the others on.
"The best part about it is the genuine happiness. Everyone is a community," Mr. DeSano said. After the tournament in March, he continued, "Everyone thanked me — it was one of the best days of work I've ever had, last time."
Contact David Patch at dpatch@theblade.com or 419-724-6094.
Guidelines: Please keep your comments smart and civil. Don't attack other readers personally, and keep your language decent. Comments that violate these standards, or our privacy statement or visitor's agreement, are subject to being removed and commenters are subject to being banned. To post comments, you must be a registered user on toledoblade.com. To find out more, please visit the FAQ.