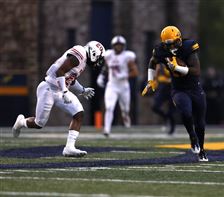 Toledo's Jordan Fisher hauls in a pass against Northern Illinois. The Rockets have control of the MAC West after a 27-17 win over the Huskies.
Blade/Kurt Steiss Enlarge
The University of Toledo football team is 8-1 overall and 5-0 in the Mid-American Conference. The Rockets, coming off a big win against West Division nemesis Northern Illinois, received 31 points in the Associated Press Top 25 poll released Sunday, the third-most of any team outside the top 25.
While Toledo becomes more of a name in the national landscape of college football this season, coach Jason Candle said he expects nothing to change within the Rockets program.
"I better not notice any change," Candle said. "That's a recipe for failure right there. Every meeting room in this building has a sign that says, 'The quickest path to failure is to be impressed by your own successes'. That wasn't hung up there by accident. That's what I firmly believe, whether that is individual success by our players or team success. Some things that are on the stat sheet, at the end of the day, that doesn't truly tell the story of what our team needs to be very successful. We have to continue to take a selfish approach to being the best player you can possibly be and watch and witness how that feeds into making our team at its best each and every night when we go out and play."
Last week against Northern Illinois, Candle singled out the play and leadership of his senior class as a key factor in the team's 27-17 victory against the Huskies.
As each game takes on more importance, Candle said he is counting on his seniors to be at their best this time of year.
"As long as they are good, and our guys have been," Candle said of relying on the senior class. "They're reliable and they are accountable. You can set a plan in place and you can talk about a great leadership plan and talk about all of these things, but the behavior has to match and really at the end of the day, it has to be player-driven and they have to match the behavior and set the standard for what the behavior is. When that matches the talk and the belief system, I think you have a real chance."
That belief system and standard of excellence has led to a season which the Rockets are pulling together in the quest for their first MAC championship since 2004. Even with that championship pursuit, they haven't lost sight of enjoying the day-by-day process.
"Every day is a fun day," UT senior offensive lineman Elijah Nkansah said. "We have a lot to look forward to and a lot to work for and work towards. If you don't make it fun, then there is really no point in even playing. If you don't have anything to look forward, too, then you are really just here to show up and not really contribute anything or do anything. We go out to practice and to games and we have fun with it. We work together and I believe that is why we have been so successful lately. Everyone has a purpose and that purpose is a MAC championship and to win the next game and just play together as a whole."
The win against Northern Illinois put Toledo in great position to claim the West Division title and earn a trip to the MAC championship game. But before that, the Rockets have to close out the season with three tough games.
"November is like a new season, and we are looking to go 4-0 in November," UT senior defensive tackle Marquise Moore said. "We are trying to get to somewhere we have never been before. It's definitely a fun time, but at the same time, it's very serious."
Contact Brian Buckey at: bbuckey@theblade.com, 419-724-6110, or on Twitter @BrianBuckey.
Guidelines: Please keep your comments smart and civil. Don't attack other readers personally, and keep your language decent. Comments that violate these standards, or our privacy statement or visitor's agreement, are subject to being removed and commenters are subject to being banned. To post comments, you must be a registered user on toledoblade.com. To find out more, please visit the FAQ.