AMHERST, N.Y. — This past August, Jake Suder became a media darling.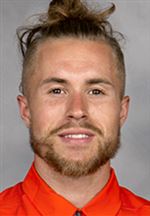 Jake Suder Handout NOT BLADE PHOTO
You remember Suder: He is the Bowling Green State University football team's kicker who was challenged by his coach, Mike Jinks, to make a 50-plus-yard field goal. The stakes? If Suder made the kick, Jinks would give the walk-on a scholarship.
Suder made it, and a video of the kick — and the celebration of his teammates after the kick — went viral. Before the season began, the Central Catholic graduate was interviewed by national media such as Good Morning America, ESPN's SportsCenter, and USA Today.
RELATED: Suder earns BG scholarship thanks to kick.
"That was a great experience — it's something I'll never forget," Suder said. "It was fun for my family to see and hear me on all those different media.
"But I had to keep a calm head and focus on the task at hand, which was to become a weapon for this football team."
Now the national attention has left. But maybe it should return: Suder has become one of the most dependable kickers not only in the Mid-American Conference, but also in college football.
Through the Falcons' contest at Buffalo on Tuesday, Suder has made 16 of 18 field goals this season.
The junior kicker has been perfect on 14 attempts inside 40 yards. What's more, he connected four times against South Dakota to earn MAC East Division special teams player of the week honors, and he has made three field goals in two other contests.
Suder, who has drilled 24 of 25 extra-point kicks, leads the team in scoring with 72 points.
Suder's improvement is a step forward from last season, when he made 9 of 12 kicks. While the percentage is good, he tried just two that were longer than 33 yards, including a 44-yard make at Miami.
"Last year when he went out to kick a field goal, people would hold their breath," Jinks said. "This year when he goes out to kick, we think it's money."
Special teams coach Matt Brock said Suder has made steady improvement since joining the program.
"First of all, he's an easy kid to coach because he loves what he does," Brock said. "He really attacks his craft and works at his craft as hard as anyone on this football team.
"It's not just in the weight room. It's on the field, working on technique. It's in the film room, watching all his kicks to clean up his steps and alignment. It's working on little things like keeping his head down and following through. And all that work has paid off for him."
Still, Jinks admitted that the notoriety Suder received before the season began had the Falcons coach worried.
"Initially I had some concerns going in the Michigan State game," Jinks said. "I was thinking there would be pressure on him to make a kick in front of all those fans after getting all that publicity.
"But he kicked the ball with such a confident stroke and stride."
Suder made a 36-yard kick against the Spartans and connected on the next nine field goals that followed before missing on a 40-yard attempt in the rain at Miami.
"After I made that first field goal at Michigan State, it calmed my nerves," Suder said. "I realized now that I can do this."
Since the miss at Miami, Suder made seven of his next eight kicks. His only miss came on a 52-yard attempt against Northern Illinois.
"When he misses one or makes one, you cannot tell," Brock said. "And that's what you want in a kicker.
"Even when he struggled in his first spring here, his mentality never changed."
And Suder said his kicking now focuses on having the best possible attitude for each kick.
"It's been a mental game for me," he said. "In the off season I did what I needed to do, to get stronger and such, to get better height on the ball.
"Now it's about going out there and being able to kick after you've missed a kick, to be a peace with your misses and kick again. I feel now I've improved in that mental area, of getting my mind right after I miss kicks."
The kicks in games may not feature as much pressure as kicking for a scholarship. Or do they?
"There's pressure on every kick, but I try not to think about it," Suder said. "I just try to focus on what I'm doing on a particular day.
"What I did last week or to this point this season is over and done with. I just need to focus on getting better every single day."
Contact John Wagner at jwagner@theblade.com, 419-724-6481, or on Twitter @jwagnerblade.
Guidelines: Please keep your comments smart and civil. Don't attack other readers personally, and keep your language decent. Comments that violate these standards, or our privacy statement or visitor's agreement, are subject to being removed and commenters are subject to being banned. To post comments, you must be a registered user on toledoblade.com. To find out more, please visit the FAQ.