BOWLING GREEN — Please excuse this old man for having a "senior" moment … wait, let's call it a "back-in-the-old-days" moment instead, OK?
I remember a time when the games between the football teams from Bowling Green State University and the University of Toledo were part of a real rivalry.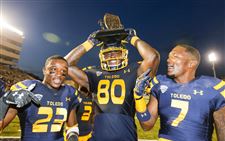 Toledo's Michael Roberts holds the Battle of I-75 trophy as he and teammates DeJuan Rogers and Delando Johnson celebrate the Rockets win over Bowling Green at the Glass Bowl last season. Toledo has won the last 7 games in the I-75 Rivalry series.
Blade Enlarge
It's a subject I first wrote about in 2011, and my thoughts haven't changed. I'm not the only one who has noticed: former Blade columnist Dave Hackenberg eloquently wrote about the rivalry a few years ago. And current Blade columnist David Briggs wrote about the current lopsided nature before last year's game.
Please do not misunderstand: This has nothing to do with the Rockets recent stranglehold on the series. If I may draw your attention to last year's contest, a Toledo team that was a 31-point favorite needed a touchdown in the game's final two minutes to break a tie and claim the victory.
Trust me, I know players and coaches on both sides are fired up. I'm also aware alumni and die-hard fans of the two teams are excited as well.
But I remember the times not so long ago when casual fans around these parts treated this game the way they do the Ohio State-Michigan contest, wearing their team colors and bragging about "their" team.
Is it just me, or is that spirit gone? Are students of the two schools fired up for this game? And are casual fans excited for the contest? In my opinion, the answer to those questions is no. And until the answers to those questions becomes yes, this is not a real rivalry.
Contact John Wagner at: jwagner@theblade.com, 419-724-6481, or on Twitter @jwagnerblade.
Guidelines: Please keep your comments smart and civil. Don't attack other readers personally, and keep your language decent. Comments that violate these standards, or our privacy statement or visitor's agreement, are subject to being removed and commenters are subject to being banned. To post comments, you must be a registered user on toledoblade.com. To find out more, please visit the FAQ.