COLUMBUS — Twelve years ago, Mitch Kahn came home from a percussion rehearsal and announced he had a change of heart.
Kahn said he was not going to play drums. Instead, he would lug around a giant instrument for the next decade plus, with a specific goal in mind: he was going to dot the 'i' in the the Ohio State marching band's "Script Ohio" formation.
Northview graduate and Ohio State senior Mitch Kahn dots the "i" in Script Ohio before Ohio State's game Saturday against Illinois.
David Heasley Enlarge
"My dad loved making the joke that it would have been nice carrying around two drumsticks as opposed to the biggest instrument in the band," Kahn said. "But I came home after that percussion rehearsal and I said I'm going to play tuba and I'm going to dot the 'i.' "
The Northview graduate and OSU senior made his boyhood dream come true Saturday before the Buckeyes' final home game of the season against Illinois.
Before a crowd of 105,282, Kahn, a sousaphone player and row K leader, was at center stage on senior day.
VIDEO: Northview graduate dots the 'i' in Script Ohio
But the day began with a bout of mild panic. Heavy rains were due to roll through Columbus at some point during the game, and any lightning strikes presented the possibility the band would have to delay "Script Ohio" until halftime, or worse — not perform it at all.
The same line of storms delayed Indiana's noon game, and Ohio State carefully watched the weather for its 3:30 p.m. kickoff.
"Four years, you know? You want it to be perfect," Kahn said. "In addition, I was nervous I would drop my mouthpiece and I wouldn't be able to play the solo."
Despite all the worrying, Kahn's big moment went perfectly. There rain held off until halftime, he played the solo without a hitch, and ABC's cameras followed him as he dotted the 'i,' then later showed the footage as part of its national broadcast.
Kahn came back to his phone and found messages from former elementary and high school teachers and family, and a friend who plays in Michigan's marching band was on hand in Columbus to see the game.
After four years of performing "Script Ohio," this version held a special place for Kahn.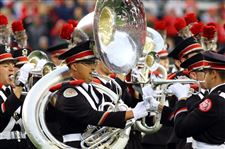 Northview graduate and Ohio State senior Mitch Kahn dots the "i" in Script Ohio before Ohio State's game Saturday against Illinois.
David Heasley Enlarge
"I think one of the most underrated parts was just being able to go through the whole script," Kahn said. "As a sousaphone [player], you only go through the top of the big 'O' until you get to dot the 'i,' and you get to high-five all the tuba players on the way through. ... It's just a great day all around."
The band's postgame show came in a torrential downpour before a mostly empty stadium.
But after a 52-14 Buckeyes win against Illinois and a dotting the 'i' on senior day, there was no spoiling the day for Kahn.
"It was spectacular, honestly," Kahn said. "It was a good way to go out. It was definitely more memorable because of it."
Contact Nicholas Piotrowicz at: npiotrowicz@theblade.com, 419-724-6110, or on Twitter @NickPiotrowicz.
Guidelines: Please keep your comments smart and civil. Don't attack other readers personally, and keep your language decent. Comments that violate these standards, or our privacy statement or visitor's agreement, are subject to being removed and commenters are subject to being banned. To post comments, you must be a registered user on toledoblade.com. To find out more, please visit the FAQ.