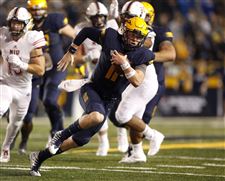 Quarterback Logan Woodside leads a group of 23 seniors that have been a key part of Toledo's recent success.
BLADE/KURT STEISS Enlarge
With the top quarterback statistically in program history in Logan Woodside, one of the most skilled receivers in Cody Thompson, and one of the most productive running backs in Terry Swanson, this year's senior class for the University of Toledo has been a cornerstone for a four-year run that has produced a 37-12 record and a 25-7 mark in Mid-American Conference play.
From regulars on the offensive line in Elijah Nkansah, Brant Weiss, and Nate Jeppesen to defensive standouts in cornerback Trevon Mathis, defensive tackle Marquise Moore, and linebacker Ja'Wuan Woodley, this 23-man senior class has a bit of everything.
With a mix of 2013 and 2014 recruits, this group came in with high expectations — the UT recruiting class was ranked No. 1 in the MAC in 2013 and No. 2 in 2014 — and for the most part, it has delivered.
"I recruited a lot of these young guys when I was an assistant," UT coach Jason Candle said. "I sat in their living rooms and know their families. Watching them grow in the game of life and also seeing some rewards on the football field, paying them back for all their hard work and effort, has been really fun and really cool."
This senior class has won two bowl games and will play in its fourth straight bowl this season.
"It's a senior class that has really given everything that they've had," Woodside said. "There are a lot of good players in this senior class, and I just remember all the hard work that we've put in together, and how we've contributed to this program and taken it to another level."
Woodside will leave Toledo as the school's all-time leader in passing yards and passing touchdowns after surpassing Bruce Gradkowski this season in both categories.
"It definitely will be an emotional on Friday," Woodside said. "I'm just thankful that I've had these great opportunities to be part of such a great program and a great school, and I'm definitely going to remember all of it."
This senior class never lost to rival Bowling Green, won at Arkansas in 2015, and topped Iowa State at the Glass Bowl.
"Every moment at the Glass Bowl was an honor for me," Mathis said. "From freshman year beating that team down south to sophomore year beating Iowa State, there are a lot of great memories here, and it's an honor to play in front of these great fans."
Thompson, whose broken leg cost him much of his senior season, is the all-time single-season leader in receiving yards with the 1,269 yards (set in 2016) and will leave Toledo as one of the most prolific big-play receivers in program history.
Swanson has 1,045 rushing yards this season and has moved into sixth all-time at Toledo with 3,283 career rushing yards,
"It will be a great way to play in the Glass Bowl one last time, a great stadium, in front of great fans," Swanson said of Senior Day. "It's been an excellent four years for me. It's definitely going to be an emotional night."
This class has been on a mission to claim its first MAC title since 2004, and Candle said he has enjoyed the process this season that he has shared with his seniors.
"What you are seeing right now is a team that is going through a process that is really hard," Candle said. "Everybody puts down these goals on paper of what they want to do and hang signs all over the buildings and on the walls of what they want to accomplish.
"Doing what you say you are going to do is a really difficult deal. To go through that with this team and this senior class, watching them lead this thing, it's been a really fun journey."
The only thing left for this senior class is the perfect sendoff, which would be a victory on Friday against Western Michigan and a trip to that elusive MAC championship game.
"You want this senior class to put their stamp on this program and leave the right way, and we have a chance to do that on Friday," Candle said. "You obviously want their last game to be a positive one and one that will be a great memory for them."
Contact Brian Buckey at bbuckey@theblade.com, 419-724-6110, or on Twitter @BrianBuckey.
Guidelines: Please keep your comments smart and civil. Don't attack other readers personally, and keep your language decent. Comments that violate these standards, or our privacy statement or visitor's agreement, are subject to being removed and commenters are subject to being banned. To post comments, you must be a registered user on toledoblade.com. To find out more, please visit the FAQ.