ARLINGTON, Texas — Ohio State is bringing an additional pieceProperties of hardware back to Columbus, and it has its defense to thank.
The Buckeyes' defensive front harassed Southern California and quarterback Sam Darnold all Friday night in the Cotton Bowl at AT&T Stadium, building a lead almost by itself and protecting it in a 24-7 victory.
No. 5 Ohio State forced No. 8 USC into four turnovers and scored 21 points off them, which proved to be the difference on a night when OSU's offense left plenty to be desired. Although the Buckeyes were held scoreless in the second half, their defense prevented Darnold — who ran for his life most of the game — from making a comeback.
"We've got the best D-Line coach in America and had them ready to rock and roll," Buckeyes coach Urban Meyer said. "You saw what I saw. I mean, if you don't let [Darnold] set his feet, you have a chance."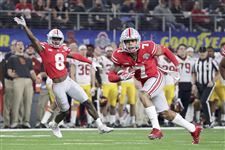 Ohio State safety Damon Webb runs an interception in for a touchdown in front of cornerback Kendall Sheffield during the first half of the Cotton Bowl against Southern California.
ASSOCIATED PRESS Enlarge
The Buckeyes' defense played without star cornerback Denzel Ward, who opted not to play, yet sacked Darnold eight times, recorded 13 tackles for loss, and even matched the USC offense with a touchdown of their own in the first half.
Ohio State finishes the season 12-2.
The game's opening quarter could not have played out much better for Ohio State.
RELATED CONTENT: Cornerback Ward skips Cotton Bowl, will enter draft
On USC's third play from scrimmage, Darnold found receiver Deontay Burnett for a first down, but Buckeyes cornerback Kendall Sheffield poked the ball away and into the waiting arms of safety Damon Webb.
Quarterback J.T. Barrett scored from a yard away on the resulting drive, giving the Buckeyes a 7-0 lead just 2 minutes, 35 seconds into the game.
Sean Nuernberger converted a short field goal on the first play of the second, and Webb struck again by intercepting Darnold and racing 23 yards into the end zone.
Even without Ward, the OSU secondary held up.
"When we found out Denzel couldn't play, we were just the next man up," Webb said. "We lose first-rounders every year, and that's just the mindset we got here."
Ohio State forced another turnover later in the quarter, as defensive end Tyquan Lewis strip-sacked Darnold and gave the ball back to the offense.
Two plays later, Barrett was in the end zone again with a 28-yard touchdown run that made the score 24-0.
"We kind of shot ourselves in the foot in this game," USC coach Clay Helton said. "Any time that you turn over the ball [four] times, especially two in the negative yardage area, you're putting a hurt on your defense and it led to points early in the game and a separation early in the game."
After another stop by the Buckeyes, USC caught a break. OSU receiver K.J. Hill muffed a punt, and USC recovered on Ohio State's 15-yard line. The Trojans made use of the field position with Ronald Jones' 1-yard touchdown run to cut their deficit to 17 before halftime.
USC's defense gave its offense ample opportunity to get back into the game, but the Trojans couldn't solve Ohio State's defensive front.
The Trojans forced Ohio State into a turnover on downs and two punts to begin the second half, yet couldn't take advantage as neither side scored in the third.
Ohio State defensive lineman Tyquan Lewis closes in on Southern California quarterback Sam Darnold.
AP Enlarge
USC stalled within field-goal range early in the fourth with a chance to trim the lead to two scores, but Chase McGrath's 28-yarder slammed off the right upright and kept the Buckeyes ahead 24-7.
Given another chance for a decisive score, USC sacked Barrett on third down to force a third consecutive Buckeyes punt.
With the help of two penalties on Ohio State's cornerbacks, Darnold and the Trojans drove to the Ohio State 14 — only to commit another turnover.
Defensive end Jalyn Holmes forced Darnold to fumble, and fellow defensive lineman Robert Landers recovered to end the Trojans' drive without a point.
The Buckeyes punted yet again in response, but USC turned over the ball on downs inside Ohio State's 20. The Trojans went just 1-for-4 in the red zone.
USC badly outgained Ohio State. The Trojans had 413 yards of total offense compared to Ohio State's 277, yet had little to show for it with four turnovers.
"When you turn over the ball that much," Darnold said, "it's hard to win games."
Contact Nicholas Piotrowicz at: npiotrowicz@theblade.com, 419-724-6110, or on Twitter @NickPiotrowicz.
Guidelines: Please keep your comments smart and civil. Don't attack other readers personally, and keep your language decent. Comments that violate these standards, or our privacy statement or visitor's agreement, are subject to being removed and commenters are subject to being banned. To post comments, you must be a registered user on toledoblade.com. To find out more, please visit the FAQ.