ARLINGTON, Texas — Compared to Ohio State's mass exodus before the 2016 season — when it replaced 16 of 22 starters — the Buckeyes entered 2018 with a relatively normal amount of turnover.
The challenge this time is the not the sheer number of players leaving OSU, but the importance of the roles that are now open.
The Buckeyes know they will lose starters at some of their most important positions between now and spring practice. Ohio State must replace its starting quarterback, left tackle, center, No. 1 cornerback, the most veteran players at linebacker and safety, and the majority of a stellar defensive line that was the strength of the 2017 team.
For most of those openings, the competition begins now.
"We call it competitive excellence," running back Demario McCall said. "A lot of people have to step up, a lot of roles have to get filled, and a lot of young boys have to get to work."
At quarterback, J.T. Barrett is out of eligibility after what feels like a lifetime, and for the first time since 2014, Ohio State will open the season with a quarterback who never has started a game.
While Dwayne Haskins never has started a game at Ohio State, he passed a drastic and impromptu test against rival Michigan during his redshirt freshman season. When Barrett fell to the turf with a knee injury at Michigan Stadium, Haskins helped OSU outscore the Wolverines 17-0 to end the game and secure a sixth straight victory in the series.
Redshirt sophomore Joe Burrow still is on the roster, though the job is Haskins' to lose going into the spring.
Without Barrett around to guide the offense in 2018, Haskins said he anticipates accepting a leadership role on next year's team.
"Now that I don't have a leader in front of me, I have to be the leader now," Haskins said. "I think there will be a lot of maturing for me to do, but I feel like I can."
Departures will be felt most along both lines.
Center Billy Price started every game for four years and was a two-time All-American, while Jamarco Jones graded as one of college football's top left tackles as a senior in 2017.
"It's just a bittersweet feeling," guard Demetrius Knox said, "because the guys that are leaving, they contributed so much to this program and they helped us all out."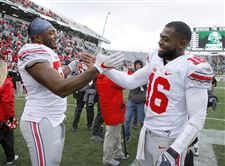 Ohio State will have to replace multiple-time captains J.T. Barrett, right, and Tyquan Lewis in 2018.
AP Enlarge
Then there is the defensive line, where the Buckeyes will lose even more. Ends Tyquan Lewis and Jalyn Holmes and tackles Tracy Sprinkle and Michael Hill were seniors, and end Sam Hubbard already declared for the NFL draft.
Ohio State will return starters Nick Bosa and Dre'Mont Jones, but a host of younger players will see elevated roles in the defensive line rotation.
"There's a standard that's set," Lewis said. "They have to keep it up."
Successful recruiting has set up Ohio State well at cornerback, where junior Denzel Ward's departure to the NFL likely will mean a spot for former five-star recruit Jeffrey Okudah, who played extensively in the Cotton Bowl. A host of highly recruited fellow freshmen remain in the picture, including Shaun Wade, Marcus Williamson, and Amir Riep.
Okudah said he has a lot of work to do to reach the level of previous Ohio State cornerbacks, from whom much was demanded.
"I know it's big shoes to fill," Okudah said. "But I'm excited to see how that all will play out."
At Ohio State, the expectations will remain high regardless of change.
Even with the departures at critical positions, the Buckeyes are on track to return 13 of the 22 players who started the final game of the regular season plus every specialist.
The defending Big Ten champions have plenty to decide between now and September.
In a jubilant locker room following the Cotton Bowl victory against Southern California, the Buckeyes saw a world possibilities in the upcoming year.
"To be honest, with this young team, I feel like the sky's the limit for us," McCall said. "The things that we've been doing in practice and the way that we compete with each other and compete with the older guys, I think we're going to have a phenomenal season next year."
Contact Nicholas Piotrowicz at npiotrowicz@theblade.com, 419-724-6110 or on Twitter @NickPiotrowicz
Guidelines: Please keep your comments smart and civil. Don't attack other readers personally, and keep your language decent. Comments that violate these standards, or our privacy statement or visitor's agreement, are subject to being removed and commenters are subject to being banned. To post comments, you must be a registered user on toledoblade.com. To find out more, please visit the FAQ.