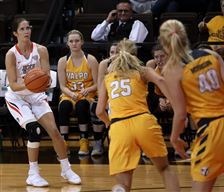 Bowling Green's Haley Puk, shown in a game earlier this season against Valparaiso, made a 3-pointer with 19.9 seconds left to lift the Falcons to a win at Akron Saturday.
Blade/Lori King Enlarge
AKRON — Things had gone painfully wrong for the Bowling Green State University women's basketball team Saturday.
A good first half had been washed away by a poor second half, and the Falcons trailed by seven points with 2 minutes, 23 seconds to play at Akron's James A. Rhodes Arena.
Yet BG found a way to bounce off the mat, outscore the Zips 10-1 in the final two minutes and claim a 66-64 victory — the Falcons' first Mid-American Conference win of the season.
"I think 'gut out a win,' as cliché as it is, is the best description," Bowling Green coach Jennifer Roos said. "I'd also call it a 'tough' win. …
"Some people think 'tough' means only physically, but it's not only that. It's diving for loose balls, but it's also knowing the plays and running them. We were tough late in the fourth quarter."
While a number of Falcons contributed in the final minutes, the biggest contribution came from senior Haley Puk, whose 3-pointer with 19.9 seconds to play provided the margin of victory.
"I was just running on the wing, and [Andrea Cecil] was pushing the ball," Puk explained. "I got the ball, and I saw a girl coming out at me.
"So I gave her a shot fake, and I took the 3."
It found nothing but net, giving her 13 points on the day. Carly Santoro finished with 19 points, and Sydney Lambert added 14 for Bowling Green (9-7, 1-4 MAC).
Alyssa Clay made six 3s to lead Akron (6-10, 0-5 MAC) with 22 points, while Shaunay Edmonds added 15.
The other contributors in BG's win? The most obvious was Santoro, who had 15 points in the fourth quarter. But Lambert's 3 with 1:13 to play gave the Falcons a jolt of energy, and Cecil's defense forced a miss by Edmonds with 11 seconds to go.
After Santoro had split two free throws with 6.1 seconds remaining, the Falcons clamped down on Clay, forcing her to miss a difficult layup at the buzzer that might have tied the game.
"It took everybody today," Roos said. "We got contributions from everyone, especially late in the fourth quarter."
In the first half, BG made five 3s and forced 12 Zips turnovers. The Falcons built a 19-11 lead after one, and only Clay's six 3s in the first half kept Akron close as Bowling Green led 32-24 at the break.
"We got the ball inside, and I thought we got good contributions from Clare [Glowniak, who had seven points] and Angela [Perry, who had three]," Roos said. "And I thought our tempo was good. …
"We were able to get into the paint and make some plays."
But it only took three minutes of the third for that lead to disappear. The Zips scored the first eight points of the period to tie the game, and Akron led by as many as four before carrying a 46-43 lead into the fourth.
"We still have to get better at learning how to play with a lead," said Roos, noting BG has led at halftime of all but three games this season. "The momentum changed quickly, but our energy level dropped as well.
"Our heads dropped, and our defensive intensity wasn't the same."
Then Akron scored the first nine of the fourth and led by as many as 12 before Santoro's aggressive offense — she collected 11 free throws, making seven — fueled a comeback.
"When we fall down, we always get back up," Puk said. "We're always fighting and fighting, and when we got pushed we just pushed back. …
"We never gave up. We knew we could do it."
Contact John Wagner at: jwagner@theblade.com, 419-724-6481, or on Twitter @jwagnerblade.
Guidelines: Please keep your comments smart and civil. Don't attack other readers personally, and keep your language decent. Comments that violate these standards, or our privacy statement or visitor's agreement, are subject to being removed and commenters are subject to being banned. To post comments, you must be a registered user on toledoblade.com. To find out more, please visit the FAQ.