University of Toledo junior center Kaayla McIntyre scored a career-high 30 points, but it wasn't enough for Toledo to overcome the potent offense of Buffalo as the Rockets fell 84-73 to the Bulls on Saturday afternoon at Savage Arena.
Toledo's Kaayla McIntyre shoots around Buffalo's Mariah Suchan during a MAC basketball game at the University of Toledo's Savage Arena in Toledo, Ohio. McIntyre scored 30 points.
BLADE/LORI KING Enlarge
Buffalo, the second-highest scoring team in the Mid-American Conference, boasted a balanced offensive effort led by Cierra Dillard's 21 points. Summer Hemphill added 18 points for the Bulls (17-4, 8-2 MAC), Cassie Oursler scored 15, and Stephanie Reid had 13.
Besides McIntyre's standout performance, Toledo (15-8, 6-5 MAC) got 13 points and nine rebounds from junior Mikaela Boyd.
The loss snaps a two-game win streak for Toledo as the Rockets were coming off road wins at Bowling Green and Western Michigan.
PHOTO GALLERY: Buffalo 84, Toledo 73
VIDEO: Toledo-Buffalo
The Bulls swept the season series between the teams. Buffalo beat UT 87-69 at home Jan. 20.
Toledo started with the game's first five points and took a 13-10 lead with 2 minutes, 42 seconds left in the first quarter after a Sarah St-Fort layup. But Buffalo then closed the quarter on a 10-3 run, capped off by a Dillard 3-pointer that beat the buzzer and gave the Bulls a 20-16 lead.
In the second, Toledo regained the lead after a McIntyre three-point play gave the Rockets a 31-30 lead with 4:05 remaining. Buffalo then used a 15-4 run to close out the half and take a 45-35 lead into the locker room.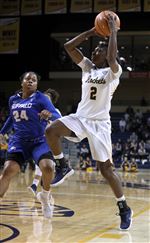 Buffalo's Cierra Dillard watches Toledo's Mikaela Boyd shoot during Saturday's game at Savage Arena.
BLADE/LORI KING Enlarge
During the run, Hemphill had three layups and two free throws, Autumn Jones hit a 3, and Reid and Mariah Suchan each added a layup.
Buffalo would lead by as many as 16 in the third after a Reid layup gave the Bulls a 60-44 edge with 4:54 to go. They took a 70-56 lead into the fourth quarter.
In the fourth, Toledo cut the Buffalo lead to 78-73 with 1:07 left, but Katherine Ups answered with a layup for the Bulls, and Reid and Dillard closed out the game with two free throws each as the Bulls held the Rockets scoreless.
Toledo struggled from the free-throw line, making just 10-of-22 foul shots (45 percent), while Buffalo cashed in by going 9-of-11 from the line.
Buffalo held a 46-32 edge in rebounding and turned 15 offensive rebounds into 22 second-chance points. The Bulls dominated with 66 points in the paint, compared to just 38 for Toledo.
McInytre was 12-of-17 from the field during her career-best scoring day, but was just 6-of-13 from the free-throw line.
Toledo goes on the road for its next two games, travelling to Miami on Wednesday and Central Michigan on Feb. 10.
Contact Brian Buckey at: bbuckey@theblade.com, 419-724-6110, or on Twitter @BrianBuckey.
Guidelines: Please keep your comments smart and civil. Don't attack other readers personally, and keep your language decent. Comments that violate these standards, or our privacy statement or visitor's agreement, are subject to being removed and commenters are subject to being banned. To post comments, you must be a registered user on toledoblade.com. To find out more, please visit the FAQ.