With the Mid-American Conference tournament quarterfinals tipping off today in Cleveland, here is a player to watch from each of the eight teams left:
No. 1 Buffalo — CJ Massinburg; Massinburg was voted first-team All-MAC and is one of the most talented players in the conference. He is fourth in the league in scoring at 17.4 points per game and is sixth in rebounding at 7.5 per game.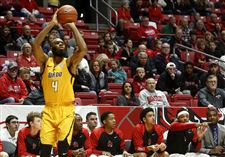 Toledo's Tre'Shaun Fletcher takes a shot against Ball State.
Blade/Kurt Steiss Enlarge
No. 2 Toledo — Tre'Shaun Fletcher: Fletcher won MAC player of the year honors after averaging 18.8 points, 8.2 rebounds, and 4.5 assists per game. He was the only player in the top five in the conference in each of those categories.
No.3 Eastern Michigan — James Thompson IV: Thompson was a first-team All-MAC selection and is the top center in the conference. He averaged 15.3 points per game and led the conference in rebounding (11.5 per game) and field goal percentage (68.3 percent).
No. 4 Ball State — Tayler Persons: Persons is the leading scorer for Ball State at 14.9 points per game. He is also a good passer, averaging 4.3 assists per game. He was a second-team All-MAC pick.
No. 5 Kent State — Jaylin Walker: Walker is one of the top pure scorers in the league. He can get his own shot off the dribble. He averages 16.7 points per game and is third in 3-pointers made at 2.7 per game. He was named third-team All-MAC.
No. 7 Miami — Nike Sibande: Sibande is the leading scorer for the Redhawks and was named the MAC freshman of the year. He averages 14.6 points per game.
No. 8 Central Michigan — Shawn Roundtree: Roundtree is tied with teammate Cecil Williams for the team lead in scoring at 15.2 points per game. Roundtree adds 3.9 assists per game.
No. 11 Akron — Daniel Utomi: Utomi was voted honorable mention All-MAC. He is fifth in the conference in scoring at 16.8 points per game and is second in 3-pointers made at 2.8 per game.
Guidelines: Please keep your comments smart and civil. Don't attack other readers personally, and keep your language decent. Comments that violate these standards, or our privacy statement or visitor's agreement, are subject to being removed and commenters are subject to being banned. To post comments, you must be a registered user on toledoblade.com. To find out more, please visit the FAQ.