COLUMBUS — The show will go on in Co­lum­bus, al­beit a cou­ple hours ear­lier than planned.
Ohio State's spring game will start at 11:45 a.m. Satur­day in an at­tempt to avoid thun­der­storms — rain re­mains likely — as 79,000 tick­ets al­ready have been dis­trib­uted for the game.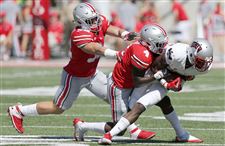 Ohio State defenders Tuf Borland, left, and Jordan Fuller, are two players whose roles have been decided, though Borland will not play Saturday because of an injury.
AP Enlarge
The reign­ing Big Ten cham­pi­ons have most of their an­swers at re­ceiver, cor­ner­back, and on both lines. But they will go into the game with a hand­ful of po­si­tions still be­ing con­tested. Ohio State likely will not make fi­nal de­ci­sions un­til the end of fall camp, but the spring game will be the big­gest pub­lic show­ing at a few key places.
Quarterback: The first and most ob­vi­ous place to watch is un­der cen­ter, where Ohio State main­tains a le­git­i­mate three-man race to be the next starter is on­go­ing. The trio of Dwayne Haskins, Joe Bur­row, and Tate Mar­tell have seen vary­ing amounts of time with the first team this spring, and Buck­eyes coach Ur­ban Meyer said this week noth­ing has been de­cided on the quar­ter­back depth chart.
VIDEO: OSU spring game
Ohio State's past ac­tions have the great­est weight — it was Haskins, not Bur­row, who re­placed an in­jured J.T. Bar­rett at Mich­i­gan last sea­son — but Meyer and quar­ter­backs coach Ryan Day have said all spring the com­pe­ti­tion is too close to call.
If all three re­main on the ros­ter through the sum­mer, the race will con­tinue through train­ing camp. But the game presents a chance for one of the three to fin­ish the spring with a slim lead for the No. 1 spot.
Linebacker: Tuf Bor­land is Ohio State's mid­dle line­backer of the fu­ture, but he's out un­til at least Sep­tem­ber with an Achilles in­jury. Bor­land's avail­abil­ity for the start of the sea­son is in doubt, for­mer starter Dante Booker is re­cov­er­ing from shoul­der sur­gery, and the ro­ta­tion at line­backer is a free-for-all.
Justin Hil­liard has taken over at mid­dle line­backer for the time be­ing, and the for­mer five-star re­cruit fi­nally is healthy. Meyer said he is a big fan of Hil­liard, who could force his way onto the field with con­tin­ued growth this off­sea­son.
The Buck­eyes also have been en­cour­aged by out­side line­back­ers Ke­an­dre Jones and Ma­lik Har­ri­son, and Pete Werner has made strides this spring.
Also keep an eye on St. John's Je­suit grad­u­ate Dal­las Gant (wear­ing No. 19), who en­rolled early in Jan­u­ary but al­ready worked his way onto the sec­ond team at line­backer. Meyer hopes Gant will play spe­cial teams as a true fresh­man.
Safety: Jor­dan Fuller, if healthy, is a lock to start at one of the safety po­si­tions. His part­ner on the back end of the de­fense is not as clear.
Watch for soph­o­more Isa­iah Pryor, about whom team­mates have raved this spring. Pryor has the slight edge over a host of com­pet­i­tors at safety, but Ohio State's coaches un­doubt­edly want to see Pryor suc­ceed in a game sit­u­a­tion. Pryor is a good can­di­date for OSU's break­out player in 2018.
Center: The past two Ohio State cen­ters won the Rim­ing­ton Tro­phy as the na­tion's top cen­ter. No pres­sure, Brady Tay­lor.
The red­shirt ju­nior is the fa­vor­ite the an­chor Ohio State's line, but he has not played much as he has waited his turn be­hind NFL-cal­i­ber tal­ents on the line. Now is his time. A healthy crowd in Co­lum­bus will pro­vide the clos­est thing to a game at­mo­sphere, and Tay­lor's calls along the line will face their big­gest test yet.
Contact Nicholas Piotrowicz at: npiotrowicz@theblade.com, 419-724-6110, or on Twitter @NickPiotrowicz
Guidelines: Please keep your comments smart and civil. Don't attack other readers personally, and keep your language decent. Comments that violate these standards, or our privacy statement or visitor's agreement, are subject to being removed and commenters are subject to being banned. To post comments, you must be a registered user on toledoblade.com. To find out more, please visit the FAQ.