COLUMBUS — Thursday's NBA draft combine should help the draft position of former Ohio State big man Keita Bates-Diop, who checked off key boxes that teams will evaluate during the draft process.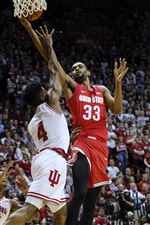 Ohio State forward Keita Bates-Diop is a possible first-round pick in the NBA draft.
AP Enlarge
After leg surgery 17 months ago, Bates-Diop was in great shape — his body fat was just less than 5.4 percent — he measured over 6-foot-7 without shoes, and his wingspan is more than 7-feet, 3-inches, which placed him tenth among players invited to the combine and first among wing players.
So, can he be a first-round pick?
Well, Thursday certainly didn't hurt. Bates-Diop, who led the Buckeyes in scoring and was named the Big Ten player of the year, was the driving force behind Ohio State's surprising turnaround and has seen his stock continue to rise.
Bates-Diop projects as a wing in the NBA who could crack a lineup on the right team. In his last year in college, he scored in every way and also showed he can be a threat from the 3-point line, which will have to a big part of his game to obtain playing time in the NBA, as his mid-range and post-up matchups won't be nearly as favorable as they were in college.
It's true of all players, but especially with Bates-Diop: the fit matters. While he can play power forward for a stretch in a small lineup, he's likely not big enough to play there full time, and his ball-handling will need some work for regular minutes at small forward.
For a team like Atlanta, who has four picks inside the top 34 and needs help up and down the roster, Bates-Diop might be worth the risk. The Hawks select third, and adding to the class with a smart player with scoring touch could make sense for one of their picks at 19, 30, or 34. Denver, who selects 14th, also makes sense.
As the NBA has trended toward a more athletic game, players who can score at all three levels and rangy defenders have become priorities. Bates-Diop is both of those things, and his measurements Thursday might have been the final incentive a team needed to take Bates-Diop in the top 30.
Contact Nicholas Piotrowicz at npiotrowicz@theblade.com, 419-724-6110 or on Twitter @NickPiotrowicz
Guidelines: Please keep your comments smart and civil. Don't attack other readers personally, and keep your language decent. Comments that violate these standards, or our privacy statement or visitor's agreement, are subject to being removed and commenters are subject to being banned. To post comments, you must be a registered user on toledoblade.com. To find out more, please visit the FAQ.