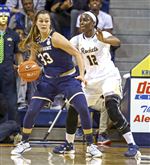 Notre Dame forward Kathryn Thompson is guarded by UT's Janice Monakana during a women's basketball game at Savage Arena in 2006. Notre Dame will return to Toledo for a game this upcoming season.
BLADE Enlarge
The University of Toledo women's basketball team released its 2018-19 non-conference schedule Wednesday, highlighted by a home game against 2018 national champion Notre Dame.
The Rockets will host the Fighting Irish on Dec. 8 in Savage Arena.
UT's Mid-American Conference schedule will be announced in early September. Toledo will be hosting Kent State, Bowling Green, Ohio, and Miami, as well as its five West Division opponents as part of its nine-game home league schedule.
Toledo will welcome Notre Dame (35-3, 15-1 ACC) to Savage Arena for the second time in the past three years.
"We're excited to host the returning national champion for the first time in school history," Toledo coach Tricia Cullop said in a release. "They have an incredible program with gifted players and an outstanding coaching staff. We need to continue to play high-caliber programs so that we can continue to learn and grow."
VIDEO: Toledo women's basketball to host defending national champion Notre Dame
The Rockets drew 5,697 fans for their matchup against the Fighting Irish on Dec. 18, 2016, the sixth-largest crowd in school history. Notre Dame won 85-68.
Notre Dame coach Muffet McGraw was impressed with the atmosphere at Savage Arena during Notre Dame's first visit.
"What a great atmosphere for women's basketball," McGraw told The Blade after the 2016 game. "The fans here are terrific. I like to play in different venues, especially ones where there are good crowds. I think it's great for our team to play on the road, and it only helps you in the NCAA tournament when you play different styles and in adverse situations. This was good for us, and it was good for the game, to grow the game."
Northview graduate Katie Cole was a sophomore walk-on with the Fighting Irish last season. The guard played in 23 games and averaged 1.3 points per game.
The Rockets will face Iona in their home opener Nov. 14 followed by a matchup with Duquesne four days later. A year ago, the Rockets defeated the Gaels 74-57 but lost to the Dukes 73-54 on the road.
Toledo will then embark on a season-long, five-game road stretch with the first stop Nov. 21 at Dayton. UT also will square off at Valparaiso on Nov. 26, Belmont on Nov. 29, Memphis on Dec. 1, and Cleveland State on Dec. 5 as part of the trip.
The Rockets will wrap up their non-conference schedule against the Fighting Irish, followed by home games Dec. 18 vs. Stony Brook and Dec. 21 againts Detroit Mercy.
Guidelines: Please keep your comments smart and civil. Don't attack other readers personally, and keep your language decent. Comments that violate these standards, or our privacy statement or visitor's agreement, are subject to being removed and commenters are subject to being banned. To post comments, you must be a registered user on toledoblade.com. To find out more, please visit the FAQ.