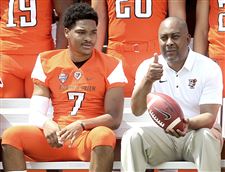 Bowling Green's Armani Posey looks over to coach Mike Jinks as he gives the thumbs up to the photographer start the team photo during Bowling Green State University's football media day last year.
BLADE/KURT STEISS Enlarge
BOWLING GREEN — Two members of the Bowling Green State University football team were dismissed from the program as a result of an investigation into the illegal use of credit/debit cards that belonged to the school.
Redshirt sophomore linebackers Armani Posey and Dirion Hutchins no longer are on the team, according to BG officials.
Mr. Hutchins, a Bowling Green State University student and member of the football team, is charged with telecommunications fraud, theft, and prohibited acts. The three charges are all felonies and were filed Friday by BGSU Police.
Posey, also a student and member of the football team, was charged June 26 with receiving stolen property and unauthorized use of property. He was found guilty July 9 of unauthorized use of property, a misdemeanor, in Bowling Green Municipal Court and was given a 180-day jail term that was suspended. The terms of his probation include having no criminal offenses for the next two years, paying $2,000 restitution to the Bowling Green athletics department, and paying a $500 fine.
The charges are the result of a police investigation that began after the university discovered irregular charges on debit card accounts designated for athletic book scholarships. Investigators think the cards were used by those who had the card numbers and security codes.
Mr. Hutchins is accused of taking money off the cards and placed them in a PayPal or Squareup account, then transferred to a bank and liquidated for cash. All told, he is accused of making 27 deposits and taking $9,066 between April 23 and June 26, court documents show.
Posey is accused of receiving the credit card information from Mr. Hutchins, who was his roommate and using them to pay for food at a parking kiosk for his girlfriend, according to court documents.
Along with being removed from the football team, both men could be held accountable under the student code of conduct.
Falcons football coach Mike Jinks had no comment, athletics spokesman Jason Knavel said. University officials also declined to comment because the investigation by BGSU Police still is ongoing, although they indicated the university would be reviewing its procedures and practices for securing and ensuring proper use of BGSU debit cards.
Posey played in nine games at linebacker last season, starting five times, and finished sixth on the team in tackles with 52. The 6-foot-2, 214-pound Detroit native also forced two fumbles and broke up a pass.
The 6-4, 235-pound Hutchins played in 12 games on the defensive line and finished with 19 tackles, including five solo stops. The native of St. Charles, Mo., also had four quarterback hurries.
This is the latest incident in a discordant offseason for the Falcons. Receiver Matt Wilcox, who was suspended from the team before spring drills began, was dismissed from school following an OVI charge in April.
Another receiver, Datrin Guyton, was removed from the football team in June after an off-campus incident.
Contact John Wagner at: jwagner@theblade.com, 419-724-6481, or on Twitter @jwagnerblade.
Guidelines: Please keep your comments smart and civil. Don't attack other readers personally, and keep your language decent. Comments that violate these standards, or our privacy statement or visitor's agreement, are subject to being removed and commenters are subject to being banned. To post comments, you must be a registered user on toledoblade.com. To find out more, please visit the FAQ.