BOWLING GREEN — On the practice field this summer, multiplicity is on the mind of Bowling Green's coaches.
The Falcons are in the midst of an overhaul that aims to leave their defense with fewer tendencies and more flexibility, and running a multiple defense usually requires a dynamic defensive back.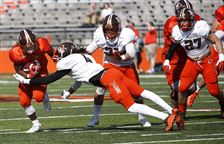 BGSU running back Josh Cleveland is tackled by defensive back Fred Garth during spring practice in 2017.
BLADE/LORI KING Enlarge
In other words, BGSU has high hopes for safety Fred Garth, the former junior college transfer from Mississippi who started every game last season and led the team with 95 total tackles.
Listed as the No. 1 at the "rover" position on the depth chart, Garth will be an important player for BG during the upcoming season.
The Falcons will ask Garth to support the run like a linebacker on some plays, to cover one-on-one like a cornerback on others, and still be comfortable in space when the ball is in the air.
"He's going to be, a lot of times, one-on-one," Falcons coach Mike Jinks said. "He's kind of that last line of defense. That's putting a lot of faith in that guy."
Garth is one of the surefire starters for Bowling Green, which hired Carl Pelini to improve a defensive unit that allowed more yardage last season than any other team in the Mid-American Conference.
Under the new system, Jinks said that Garth will have "a lot on his plate," and Garth is embracing the responsibility the coaches will place on his position.
"Trust comes with doing what I'm supposed to do every day and doing it right," Garth said. "I'm just trying to practice hard, trying to play hard, and the more and more I do those things, the more and more they trust me. If I continue to do my job, the trust will come."
After enrolling at BGSU before spring football in 2017, Garth was thrown into a heavy workload almost immediately.
He was one of four defensive players to start every game, and by the end of the season, Jinks said Garth had shown improvement that carried over into the offseason.
"He actually had a decent spring [in 2017] and flashed, then as the season rolled on, things were a little bit quick for him," Jinks said. "He started to settle down toward the end of the year and really made great strides as we went into the spring."
Heading into his redshirt senior season this year, Garth said he feels more confident in knowing what to expect, and in his role this season.
"I love playing safety. I wouldn't trade playing safety for anything else," he said. "I could play corner and I feel like I could play nickel, but safety is my favorite position and best position."
Since the end of last season, Jinks said the safety has taken big strides off the field.
BG will ask a lot of Garth in 2018, and so far the Falcons' coaches have been encouraged by what they've seen.
"What I'm going to give the kid a ton of credit for is that he really put his nose in the playbook, and his preparation has been a lot better, starting with understanding the playbook," Jinks said. "I've been really pleased with him as far as that goes. We're going to need him to play well to be successful."
Contact Nicholas Piotrowicz at npiotrowicz@theblade.com, 419-724-6110 or on Twitter @NickPiotrowicz
Guidelines: Please keep your comments smart and civil. Don't attack other readers personally, and keep your language decent. Comments that violate these standards, or our privacy statement or visitor's agreement, are subject to being removed and commenters are subject to being banned. To post comments, you must be a registered user on toledoblade.com. To find out more, please visit the FAQ.