Seasons are not won and lost on the practice field in August, but a live football scrimmage Saturday at Doyt Perry Stadium offered plenty of encouraging signs for the Bowling Green offense.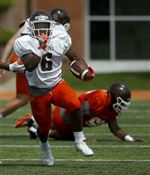 BGSU running back Ra'veion Hargrove breaks free during the scrimmage at Doyt Perry Stadium in Bowling Green, Ohio.
THE BLADE/LORI KING
Enlarge | Buy This Image
While the defense continues to be a work in progress as the Falcons install a new scheme, BG looks as if it will have its most complete offense in the three-year tenure of coach Mike Jinks.
The offensive line returns five players with a combined 39 starts, and Saturday's scrimmage showed that quarterback Jarret Doege has skill around him.
Running back Andrew Clair is back with options behind him, and Jinks said the Falcons will go into the season opener against Oregon with between eight and 10 receivers who are ready to play.
"That's kind of something we've been waiting for here," Jinks said. "In years past, we've always had maybe three to four to five — maybe five — that we felt comfortable with going into a game. We feel like we've got eight to 10 that can roll in there, and they can roll. When they're able to keep that kind of heat on the defense, it helps."
Clair, according to Pro Football Focus, averaged 4.5 yards after contact last season as a freshman.
That is the fifth best nationally among returning running backs.
He figures to be a bigger part of the offense this season, while junior Charles Lamar, sophomore Bryson Denley, and true freshman Ra'veion Hargrove all looked worthy of carries in the scrimmage.
Jinks said he isn't sure how the team will use the Hargrove, who was a standout at Trotwood Madison in the Dayton area, but that he likely will find his way onto the field.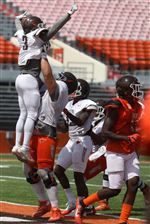 BGSU wide receiver RB Marlow III, 3, celebrates his touchdown pass with offensive lineman Sam Neverov during the scrimmage at Doyt Perry Stadium in Bowling Green, Ohio.
THE BLADE/LORI KING
Enlarge | Buy This Image
In any case, Clair said the depth on the offensive side of the ball should be beneficial come game time.
"I really feel like we have a lot of depth this year, and that's going to help out a lot," Clair said. "We're going to be able to have fresh legs in and out of the game all the time. We got a couple guys on the offensive side that can go in at many different positions, so I'm really confident about that."
One of Jinks' long-term goals at BG was to turn a struggling offensive line into one of the team's best position groups. While Jinks wasn't ready to say the line was there just yet, he did say this probably is the deepest they've been.
There has been much-needed position flexibility on the offensive line. Injuries forced young linemen onto the field last season, but now many of BG's best five have experience at more than one position.
BG still is tinkering with the line ahead of the first game, but feels more comfortable up front with five players who have seen the field.
"We don't have to send a new kid out Day 1, all star-struck at Oregon," right guard John Kurtz said. "We're comfortable together, and we switched up positions a lot in the offseason, so we can plug in and play anywhere. That's what this scrimmage looked like, and I think that experience will really help us this year. "
At receiver, 6-foot-4 sophomore Quintin Morris caught a touchdown Saturday and looks increasingly like a red-zone threat for Doege. Fellow receivers Scott Miller, Deric Phouthavong, and RB Marlow III all found the end zone too.
BG averaged 25.3 points last season. Only time will determine if the 2018 offense will be improved but, in the scrimmage, the signs were there.
"Who knows — we haven't played a game yet," Jinks said. "But we've got a lot of pieces, definitely."
Contact Nicholas Piotrowicz at: npiotrowicz@theblade.com, 419-724-6110, or on Twitter @NickPiotrowicz.
Guidelines: Please keep your comments smart and civil. Don't attack other readers personally, and keep your language decent. Comments that violate these standards, or our privacy statement or visitor's agreement, are subject to being removed and commenters are subject to being banned. To post comments, you must be a registered user on toledoblade.com. To find out more, please visit the FAQ.