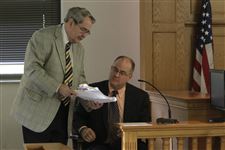 John Weglian, assistant county prosecutor, left, and, on the witness stand, Christopher F. Parker, Esq., attorney for The Skutch Company, Ltd., reviewing documents.
The Blade/Jetta Fraser
Enlarge | Buy This Image
A former Tony Packo's accounting clerk testified Monday in Lucas County Common Pleas Court about the fiscal practices of the family-owned business, including reimbursements and cash advances for company officers.
Sue Marchbanks, who worked for Packo's for 15 years, testified during the criminal trial for Tony Packo III and Cathleen Dooley, who are both charged with stealing from the iconic restaurant company. Mrs. Marchbanks acknowledged that she has since filed a wrongful-termination and whistle-blower lawsuit against the company and its new owners after being discharged from her job earlier this year.
During her lengthy testimony, Mrs. Marchbanks said she was once responsible for handling reimbursement requests from Mr. Packo. That task, as well as Ms. Dooley's reimbursements, were taken from her and taken over by Ms. Dooley in early 2005, she said.
Mr. Packo, 39, the grandson of the company's founder, and Ms. Dooley, 47, the company's controller, both are charged with three counts of aggravated theft for allegedly stealing about $170,000 from the company over a four-year period.
The allegations concern money allegedly stolen by Mr. Packo, including the taking of cash from parking proceeds at the Packo's at the Park location near Fifth Third Field, and payment advancements. Ms. Dooley is accused of helping to facilitate the alleged thefts.
Also taking the witness stand Monday were the receiver who ran the company while it was in the midst of civil litigation, and two lawyers involved with the company.
Steve Skutch, from The Skutch Company, Ltd., testified that he was appointed by the court to take over the operations of the Tony Packo's companies in August, 2010. He said the receivership essentially ended when the company was purchased by TP Foods LLC in February.
Mr. Skutch testified that one of the company's former owners and a grandson of the founder, Robin Horvath, had come to him while he was receiver with allegations of wrong-doing by other family members.
When questioned by the defense, he said he reviewed the allegations, but did not identify anything that constituted a crime. Mr. Skutch did acknowledge that he did not conduct an audit or forensic review of the records as part of his review.
Since the sale of the company earlier this year, both Mr. Packo and Ms. Dooley were hired by its new owner, Bob Bennett, to continue working for the company. Mr. Horvath, who was not rehired, has since filed a wrongful-termination lawsuit against the company, its new owners, and the receiver.
The lawyer witnesses were Chris Parker of Goranson, Parker & Bella, who served as counsel for the receiver, and Thomas Killam of Marshall & Melhorn, who was hired in 2002 during an earlier conflict within the Packo's corporation.
Mr. Killam testified that the earlier dispute resulted in a resolution between the parties and the creation of a Board of Managers that included Mr. Horvath, Tony Packo, Jr., and a neutral third party, Jack Simonetti. As part of that resolution, Mr. Horvath and his mother, who has since died, each received money from the corporation.
He further testified that like many small, family-owned business, the company was run informally, and that often in those situations the owners will pay for personal expenses with company funds. He noted that although it is somewhat common, those funds should be paid back.
During opening statements Friday, assistant prosecutors had explained that the case revolved around financial records for the company and that an investigation of the records showed that Mr. Packo was taking money he was not entitled to and that Ms. Dooley helped him.
Defense attorneys countered that it was a family business with a "loosey goosey" way of handling the payment of personal expenses with company funds.
The defense further noted that the investigation was initiated by Mr. Horvath, who returned from sick leave to find that the Packo business was running well without him.
Mr. Horvath is expected to testify during the trial, which is anticipated to last two weeks. A jury of seven men and five women are hearing the evidence in the case, over which Judge Frederick McDonald is presiding.
Contact Erica Blake at:
eblake@theblade.com
or
419-213-2134.
Guidelines: Please keep your comments smart and civil. Don't attack other readers personally, and keep your language decent. Comments that violate these standards, or our privacy statement or visitor's agreement, are subject to being removed and commenters are subject to being banned. To post comments, you must be a registered user on toledoblade.com. To find out more, please visit the FAQ.