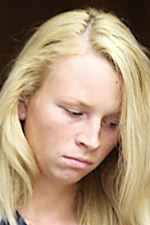 Waxler
THE BLADE/LISA DUTTON
Enlarge | Buy This Image
Judge Myron Duhart, of Lucas County Common Pleas Court, didn't mince words Tuesday as he sentenced a Toledo mother to prison for abusing a 3-year-old girl she and her husband adopted.
He pointed out that Courtney Waxler's biological children were born opiate-dependent.
"It would suggest to me that you don't deserve to be a mother," Judge Duhart told her. "And if it was left up to me, you would never be able to be around another child, whether your own or otherwise, for the rest of your life."
Waxler, 25, of 739 Western Ave. was sentenced to prison for 30 months — the same sentence Judge Duhart gave her husband, Joshua Waxler, 25, last week.
Both had entered Alford pleas and been found guilty of endangering children for the February, 2012, incident that was recorded on a cell phone placed under a bed by a family member.
The judge viewed the tape before imposing the sentences.
"I've been in the criminal justice system a very long time and that was one of the worst depictions I've seen ever," he said. "What I saw was a woman, who is a mother, pick a child up by the neck and sling her around like a rag doll. I have never seen anything as detestable as that."
Waxler told the court she was sorry, her outlook on life had "completely changed," and she would never repeat what she did.
The Waxlers' adopted and biological children, including a baby recently born to them, are in the custody of Lucas County Children Services.
"Losing my kids was the worst thing that has ever happened and could have happened," she told the court.
Saying there was nothing he could tell the court to justify his client's actions, defense attorney Keith Mitchell asked for a "reasonable sentence." He said Waxler had been addicted to pain medication, was seven months pregnant, and living in a home with 12 people at the time.
"She is nothing like the person that's in that video," he said. "She's always been polite. She's always been on time. She's remorseful. Courtney is not a bad person."
Contact Jennifer Feehan at: jfeehan@theblade.com or 419-213-2134.
Guidelines: Please keep your comments smart and civil. Don't attack other readers personally, and keep your language decent. Comments that violate these standards, or our privacy statement or visitor's agreement, are subject to being removed and commenters are subject to being banned. To post comments, you must be a registered user on toledoblade.com. To find out more, please visit the FAQ.