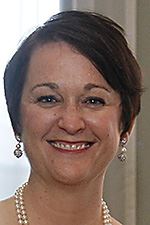 DeBacker
THE BLADE
Enlarge | Buy This Image
Gretchen DeBacker, the Democratic candidate for Toledo Municipal Court judge, was removed from 10 guardianship cases between 2006 and 2011 for failing to file mandatory reports on time.
In all 10 cases, Ms. DeBacker had been hired to represent a person who had been judged incompetent to look out for their own affairs, and her main duty to Probate Court as guardian was to file an annual inventory and two reports with Lucas County Probate Court on her ward's status.
According to Lucas County Probate Judge Jack Puffenberger, guardianship cases are handled by magistrates. He said in the majority of cases in which guardians are removed the reason is failure to file documents on time.
Ms. DeBacker is running in the nonpartisan general election Nov. 5 against Republicans Joshua Lanzinger and Kenneth Phillips. The seat is now held by Mr. Lanzinger who was appointed to the vacancy by Gov. John Kasich on Sept. 11 and sworn in as judge two days later. The vacancy was created when former Municipal Judge Michael Goulding was appointed to a vacancy on Lucas County Common Pleas Court.
Ms. DeBacker acknowledged that she was removed from the cases.
"It wasn't anything to hurt the clients. It was simply my failure to show the status of my work to the court. Probate Court is not my regular or main area of practice. It's not an excuse it's simply an explanation," Ms. DeBacker said.
She noted that her failures to turn in paperwork promptly did not involve any unethical behavior. Ms. DeBacker has no record of disciplinary action by the Ohio Supreme Court's disciplinary office, but was fined $100 for missing a continuing legal education requirement.
Ms. DeBacker said she has handled hundreds of cases in municipal, state, and federal court, and continues to be appointed to represent indigent defendants, indicating that her work is satisfactory.
"I regret the situation, obviously, but I absolutely do not think it reflects on my work ethic, on my commitment to my clients. I've learned from it. I get appointed by every single judge on Common Pleas Court. That doesn't happen if you don't show up and do work," Ms. DeBacker said.
In each of Ms. DeBacker's former probate cases, the dockets contain judgment entries from the judge reporting missed filings, ending with an entry stating that she had been removed and a new one sworn in. In several cases, Ms. DeBacker successfully got the orders stayed and was reinstated, but then was removed again.
In a 2009 case involving an "adult incompetent" named Shirley, the magistrate used a full page to cite the circumstances, including Ms. DeBacker's "erroneous" claim of having filed one of the required documents. The magistrate said that in a Oct, 19, 2010, filing, Ms. DeBacker "erroneously stated that the guardian's report was filed, which it hadn't been."
The first removal occurred in February, 2006, two months after she was cited for failing to file the guardian's report and expert evaluation. Two more removals occurred in 2006. She was removed from four cases in 2007, two in 2010, and one in 2011.
Judge Puffenberger said the fees for attorneys handling guardianship cases are paid by the court when the person is indigent. In those cases, the lawyer is paid $300 to set up the guardianship and $150 a year to file the annual statement describing the ward's status. If the ward is indigent, there is no necessity for an inventory, just a report indicating "where they live and that their basic needs are being met," he said.
"It's not a high-paying proposition," the judge said.
More often, he said, guardians are hired by nursing homes to make medical decisions for their clients. He said those fees are paid by the nursing home. In one case from which Ms. DeBacker was removed, her successor was paid $500 a year. If the ward has an estate, the lawyer can charge a percentage of expenditures and income.
"You sign an oath of guardianship. And that includes to file a true inventory and timely and accurate reports, to file timely and accurate accounts. If you can't do that you should withdraw from the case and the person should have a guardian who is willing to fulfill those responsibilities," Judge Puffenberger said. "We issue a lot of citations [for missed filing deadlines]. There are very few removals."
He said the court has 1,917 guardianships pending.
Contact Tom Troy: tomtroy@theblade.com or 419--724-6058 or an Twitter @TomFTroy.
Guidelines: Please keep your comments smart and civil. Don't attack other readers personally, and keep your language decent. Comments that violate these standards, or our privacy statement or visitor's agreement, are subject to being removed and commenters are subject to being banned. To post comments, you must be a registered user on toledoblade.com. To find out more, please visit the FAQ.