Editor's note: This story corrects that Molly Mack attended Cooley Law School in Lansing, Mich.
Two candidates with well-known — and confusingly similar — last names will be on the Nov. 5 ballot in northern Wood County for Perrysburg Municipal Court judge.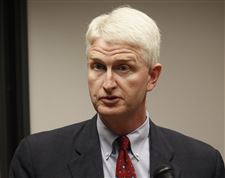 Mackin
The Blade/Jetta Fraser
Enlarge | Buy This Image
Thomas Mackin, a private practice lawyer and Perrysburg City Council member, and Molly Mack, chief of the civil division of the Wood County Prosecutor's Office, are vying for the judgeship filled for nearly 24 years by S. Dwight Osterud.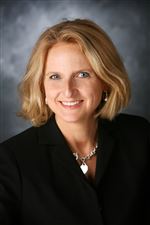 Mack
"We've been in the same parades and people will say, 'Oh I saw your husband further up in the parade,' and I say, 'No. My husband is with me, driving the car," said Mrs. Mack whose husband, Robert Mack, is a Perrysburg Township trustee. "That's why my signs include my first name."
Mr. Mackin has had to deal with the name game too. While his signs say "Mackin for judge," his campaign features the slogan "Backin' Mackin."
"Hopefully, people will get by the name recognition and focus on our qualifications," Mr. Mackin said.
Neither candidate has worked as a magistrate or judge before. The winner of the race will preside over the Perrysburg-based court, whose jurisdiction includes the cities of Rossford and Northwood; Perrysburg, Lake, and Troy townships, and the villages of Luckey, Millbury, Stony Ridge, and Walbridge.
Mr. Mackin, 48, said that in 24 years of private practice, he has handled nearly every type of case that would come before a municipal court judge. A graduate of the University of Toledo law school, he is an attorney with Munger Co. LPA in Toledo.
In addition to his legal experience, he said city voters have seen his record of service during his 15 years on city council. He would have to resign that post if elected judge.
"My record shows I have a good temperament to be judge," Mr. Mackin said. "I make my own decisions. I think independently. I have the conviction to stand by my decisions, and I would be fair and impartial."
While Mrs. Mack's current position with the prosecutor's office is concentrated on civil litigation — she represents Wood County, other political jurisdictions, public agencies, and elected officials in a variety of legal matters — she said she also handles zoning and health violations that are akin to criminal matters.
"I certainly have experience in the judicial system. I have experience in law enforcement by working in the prosecutor's office. I have experience in private sector as well as public sector law," she said.
After graduating from the Cooley Law School in Lansing, Mich., Mrs. Mack, 52, worked for two years under the late U.S. District Court Judge John Potter, followed by stints with the Toledo law firms of Spengler Nathanson PLL, and Arnold & Caruso, with a break to raise three children.
"I live by three basic rules: I always try to do my best. I always try to do the right thing, and I always try to treat other people the way I want to be treated," she said. "That combined with my broad range of legal experience, both in the public and private sector, will serve the public well."
While the candidates' party designation will not appear on the ballot, Mrs. Mack was the top vote-getter among three Republican candidates in the May primary. Mr. Mackin was the lone Democratic candidate.
Both candidates said they believed Perrysburg Municipal Court has been in good hands under Judge Osterud. Both said they would look at improving technology at the court, and the winner of the race will be responsible for appointing a new clerk of courts; longtime clerk Janice Elkes plans to retire at year's end.
Mrs. Mack said she also would like to work more closely with Bowling Green Municipal Court to see if the two Wood County courts could have more consistent procedures. That, she said, could benefit law enforcement agencies that work with both courts.
Judge Osterud, 69, chose not to run for re-election after presiding over the court since Jan. 1, 1990. On average, the court handles about 11,000 cases a year, nearly half traffic-related and the rest split between criminal and civil filings.
"Municipal court is sometimes called the people's court," Judge Osterud said. "Most of the time, people in their lifetime are going to end up in municipal court or divorce court — one or the other while they're living. The impression that they get from those two courts really forms an impression of what the judicial system is."
Full-time municipal court judges in Ohio are paid $114,100 a year and serve six-year terms.
Guidelines: Please keep your comments smart and civil. Don't attack other readers personally, and keep your language decent. Comments that violate these standards, or our privacy statement or visitor's agreement, are subject to being removed and commenters are subject to being banned. To post comments, you must be a registered user on toledoblade.com. To find out more, please visit the FAQ.