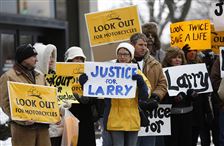 Family and friends of Lawrence J. Hilton, including his widow, Debbie, demonstrate in front of Toledo Municipal Court. Mr. Hilton was riding a motorcycle Aug. 30 when he hit a car that allegedly turned in front of him on Dorr Street. He died Aug. 31.
THE BLADE/LORI KING
Enlarge | Buy This Image
Holding signs that urged motorists to "look out for motorcycles," family and friends of a Swanton man who was killed when a car struck his motorcycle demonstrated outside Toledo Municipal Court on Friday.
Lawrence J. Hilton, 54, was on his way to the University of Toledo where he worked as an auto mechanic, eastbound on Dorr Street at Richards Road about 6 a.m. Aug. 30, when a southbound car driven by Dr. Nabil A. Ebraheim pulled out in front of him.
The motorcycle struck the passenger side of the car, and Mr. Hilton, who was wearing a helmet, was thrown off his motorcycle, suffered a head injury, and died the next day.
According to Toledo police, Dr. Ebraheim told officers he had stopped for a flashing red light at the intersection but failed to yield the right of way to the motorcycle.
Dr. Ebraheim, 62, of 2935 Valley View Dr., an orthopedic specialist at the University of Toledo Medical Center, the former Medical College of Ohio, was charged in December with vehicular manslaughter, a second-degree misdemeanor punishable by up to 90 days in jail and a $750 fine.
David Toska, Toledo's chief prosecutor, could not be reached for comment Friday, but Jeff Lingo, chief of the criminal division for the Lucas County Prosecutor's Office, said the offense likely did not meet the criteria for a felony-level charge, which requires evidence of recklessness.
"Unless they're under the influence, weaving in and out of traffic, fleeing from police, or otherwise operating recklessly, they're not chargeable as felonies," Mr. Lingo said, explaining that the misdemeanor charge only requires evidence of negligence.
While Dr. Ebraheim had been scheduled to appear in Toledo Municipal Court on Friday, his pretrial hearing was rescheduled for Feb. 27.
His attorney, Pete McHugh, declined to comment on the crash but said his client "feels terrible" about Mr. Hilton's death.
"He has deep sympathy for the Hilton family and their tragic loss," Mr. McHugh said.
Guidelines: Please keep your comments smart and civil. Don't attack other readers personally, and keep your language decent. Comments that violate these standards, or our privacy statement or visitor's agreement, are subject to being removed and commenters are subject to being banned. To post comments, you must be a registered user on toledoblade.com. To find out more, please visit the FAQ.