Defendant Cody Rickard looks back into the gallery during his trial at the Wood County Courthouse. Mr. Rickard is accused of aggravated vehicular homicide and aggravated vehicular assault resulting from an incident Oct. 28 at a construction site near Bradner, Ohio, where one CSX worker was killed and two others were injured.
THE BLADE/AMY E. VOIGT
Enlarge | Buy This Image
BOWLING GREEN — One after the other, co-workers of a CSX Transportation employee who was struck and killed by a speeding motorist testified Tuesday that the alleged driver emerged from his car with his hands raised in victory, "celebrating," as they saw it.
"He was hootin' and hollerin' saying this was great," James Parsons of Johnson City, Tenn., told the jury. "I'm not exactly sure of the wording, but it was like he scored a touchdown."
Cody Rickard, 26, of Woodville, Ohio, is on trial in Wood County Common Pleas Court for murder and two counts each of aggravated vehicular homicide, aggravated vehicular assault, and felonious assault for the Oct. 28 crash near Bradner that killed Paul Castle, 34, of Paintsville, Ky., and injured Jim Conley, 58, of Findlay and Luis Knott III, 58, of Banner, Ky.
The men were part of a CSX crew working on the tracks near the crossing on Bradner Road about 11:20 a.m. when Mr. Rickard's car allegedly drove around the "road closed" barricades, sheared off a road sign, struck a utility pole, and hit the three men as they were standing at the rear of a CSX mechanic's truck parked on the road.
A jury seated on Monday visited the crash site before testimony got underway.
Witness James Parsons testifying during the trial of Cody Rickard.
The Blade/Amy E. Voigt
Enlarge | Buy This Image
On Tuesday, eight CSX workers took the stand to describe how they heard Mr. Rickard's white Dodge Charger first then saw it fly by them.
"It was just a flash. It went by me so fast, it was just a blur," said Vernon Bowling, a CSX worker from Verona, Ky.
Rex Williams, a railroad worker from Flatwoods, Ky., said he was standing at the rear of the mechanic's truck when the speeding car pitched Mr. Castle into the air and spun Mr. Conley around, causing him to land on top of Mr. Knott. Mr. Williams himself fell backwards.
He said that after Mr. Rickard got out of his car, he told him to sit down, admonishing him that he'd likely killed someone, but Mr. Rickard just kept "cursing me."
Mr. Bowling said when a co-worker yelled that Mr. Castle had stopped breathing, Mr. Rickard got up and ran off down the railroad tracks.
Four or five of the men ran after him, with Mark Palmer of Ironton, Ohio, in the lead.
Mr. Palmer testified that at one point Mr. Rickard stopped and began throwing rocks at him. Mr. Rickard again began to run, he said, and again threw rocks.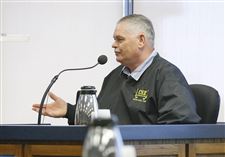 Witness Rex Williams testifies during the trial of Cody Rickard, who is accused of killing one CSX worker and injuring two others. Mr. Williams said Mr. Rickard cursed at him following the crash.
THE BLADE/AMY E. VOIGT
Enlarge | Buy This Image
At that point, Mr. Palmer admitted he struck Mr. Rickard in the back of the head with a 30-inch metal tool.
"I seen him climb out of that vehicle that just killed my buddy… . And I wasn't going to let him get away," Mr. Palmer said.
Defense attorney Edward Rhode III, showed the jury photographs of the gash on Mr. Rickard's head, referring to it as the second head injury his client sustained that day, the first being the impact of his airbag deploying inside his car.
Still, Matthew Ruble, a firefighter/​paramedic with the Bradner Fire Department who examined Mr. Rickard at the scene, said Mr. Rickard scored 14 out of 15 points on a test designed to gauge his level of consciousness, including his mental status and gross motor function.
"He was subtracted one point for confusion," Mr. Ruble said. "When we asked him some questions, such as, 'Do you know what happened?' He was unable to answer."
Wood County sheriff's Deputy Brian Ruckstuhl and other law enforcement officers described Mr. Rickard's behavior as erratic and at times highly inappropriate.
"He never once said anything about the crash," the deputy said. "He just complained about being handcuffed. He didn't want to be there."
The trial was to resume at 8:30 a.m. today,
Contact Jennifer Feehan at: jfeehan@theblade.com or 419-213-2134.
Guidelines: Please keep your comments smart and civil. Don't attack other readers personally, and keep your language decent. Comments that violate these standards, or our privacy statement or visitor's agreement, are subject to being removed and commenters are subject to being banned. To post comments, you must be a registered user on toledoblade.com. To find out more, please visit the FAQ.