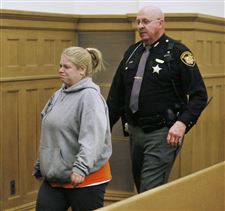 Rebecca Steinmiller is escorted from a Wood County courtroom after Common Pleas Judge Robert Pollex sentenced her Thursday to three years in prison on a charge of endangering children.
THE BLADE/ANDY MORRISON
Enlarge | Buy This Image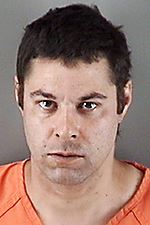 Steinmiller
BOWLING GREEN — Despite a lengthy plea for leniency for a Bowling Green woman who remained silent while her infant son was abused to his death, Wood County Common Pleas Judge Robert Pollex imposed the maximum sentence Thursday.
Rebecca Steinmiller, 27, was ordered to spend the next three years in prison. She had pleaded guilty Oct. 29 to endangering children for failing to get help for her 3-month-old son, Carter Steinmiller, who died at his father's hands May 5, 2012.
"The defendant's lucky that's really all she's facing in view of the death of this child and the way this child died," Judge Pollex said.
Defense attorney Kurt Bruderly told the court that Brian Steinmiller was "incredibly abusive" to Rebecca, which made her fearful to report the abuse of their son. In November, Brian was sentenced to 14 years in prison after pleading guilty to involuntary manslaughter and two counts of endangering children for Carter's death.
"What I'm most concerned about is the fact that she was aware from her own experiences how abusive [Brian] was and nonetheless allowed him to take care of the child, basically a hands-off approach to the care and treatment of the child," Judge Pollex said.
Rebecca quietly cried during the hearing but did not make a statement when given the opportunity by the court.
She called 911 the day her son died, tearfully telling the operator she had awoken from a nap and found that her baby was not breathing. Carter was transported from the couple's Brim Road mobile home just north of Bowling Green to Wood County Hospital, where he was pronounced dead.
Gwen Howe-Gebers, chief assistant Wood County prosecutor, said an autopsy and anthropological examination revealed that Carter had suffered burns all over his body, hemorrhages in and around his brain and eyes, a broken arm, and about 23 bone fractures in 15 ribs.
She said Rebecca could have — and should have — stopped the abuse.
"The state believes that she did have the wherewithal … to make that report, if for nothing else to confide in her counselor, who is a mandated reporter, and she didn't do that," Ms. Howe-Gebers said. "She didn't do that for a number of months, and this child suffered. This child suffered for most of his life."
Mr. Bruderly told the court Rebecca had been diagnosed with many of the symptoms seen in battered women's syndrome, including learned helplessness and depression. She had "significant to moderate mental impairment," he said, and had long relied on mental health professionals and others to function in life.
"Rebecca's not someone who thinks. She's someone who reacts," he said.
He said Brian Steinmiller had conditioned her to believe that if she defied him there would be physical consequences for her.
"On the night leading up to this, Brian had mentioned to Rebecca that 'with a knife I'll paint the walls red with your blood.' That was said, and I don't know if that was in response to the injuries that she had witnessed, but I think that was a big factor as to why Rebecca did indeed keep her mouth shut," Mr. Bruderly said.
Ms. Howe-Gebers said she was not unsympathetic to a woman in an abusive relationship, but she could not overlook the fact that Rebecca enjoyed "great family support," was in counseling, and had been in treatment for many years.
Mr. Bruderly said afterward that Rebecca would be eligible to apply for judicial release after serving six months in prison.
Contact Jennifer Feehan at: jfeehan@theblade.com or 419-213-2134.
Guidelines: Please keep your comments smart and civil. Don't attack other readers personally, and keep your language decent. Comments that violate these standards, or our privacy statement or visitor's agreement, are subject to being removed and commenters are subject to being banned. To post comments, you must be a registered user on toledoblade.com. To find out more, please visit the FAQ.