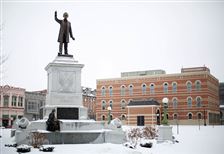 The proposed Tiffin-Seneca County courthouse would be built behind this statue of Brigadier General William Harvey Gibson.
TIFFIN — A state-funded study released Wednesday outlined a plan to build an $8.5 million justice center serving the Tiffin and Seneca County courts on the site where the county's 1884 courthouse was razed despite protests from preservationists.
The $100,000 study, commissioned by the North Central Ohio Regional Council of Governments, pointed to security and space problems with the county's common pleas courts, housed in an annex building intended for the juvenile and probate court, and with the Tiffin Municipal Court, now in the municipal building.
PHOTO GALLERY: Tiffin courthouse study
VIEW OR DOWNLOAD: Study of joint justice center for City of Tiffin, Seneca County
Building two court facilities — one for the city and another for the county — would cost about $9.4 million, according to the study prepared by consultants Burgess and Niple of Cincinnati and Public Performance Partners of Columbus.
Erecting one building, at an expense of about $8.5 million, to serve the county and city would save about $848,000 in construction costs. A shared facility also would save about $181,077 a year in operational expenses by combining janitorial and security services, utility and insurance costs, and other items.
The project requires approvals from city council and the county commissioners.
In 2011, the county commissioners voted 2-1 to raze the old Beaux Arts-style courthouse instead of renovating it. A nearly $8 million renovation plan — less than the amount eyed for a new combined building — ultimately was rejected by the commissioners who at the time cited state funding cuts as reason not to proceed, and the county moved forward with a $373,000 demolition contract instead.
Another proposal to mothball the structure also was dismissed in favor of tearing it down.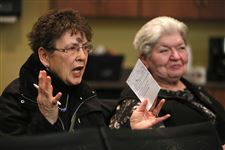 Suzanne Smith, left, and Loretta Miller, who supported preserving the Seneca County Courthouse before it was destroyed, attended the Wednesday presentation for a new joint city, county courthouse. Erecting one building to serve the county and city would save about $848,000 in construction costs.
THE BLADE/AMY E. VOIGT
Enlarge | Buy This Image
Tiffin Mayor Aaron Montz, who opposed demolition, said it was unfortunate the building was destroyed but said the proposed project represents the best option available now for taxpayer funds.
"We all need to face the fact that it is gone and nothing can bring it back. And I think this is the best-case scenario for moving forward and providing citizens with the court facilities that they are entitled to," he said.
County Commissioner Fred Zoeller also supports plans for its replacement.
"I wish I could correct what was done in the past, but I cannot turn back time," he said.
Mr. Zoeller said the $8 million renovation cost projected several years ago would be more in today's dollars, and the proposed concept discussed Wednesday includes county and city courts.
Some local preservationists who advocated for saving the courthouse still think the decision to destroy it was shortsighted and pointed to the estimated cost to replace it.
"Taking the courthouse down was a colossal waste of resources and heritage. I am glad to see a positive going forward, but it's a shame that we didn't have different people in office," said Loretta Miller of Tiffin, who attended a news conference Wednesday when the study was unveiled.
County Commissioner Jeffrey Wagner, who voted to demolish the building and the only commissioner involved in that decision still serving, attended the meeting but did not address the audience.
He did not respond to a reporter's email and phone call seeking comment. His term expires at the end of the year, and he is not seeking re-election.
A joint justice center could have been created inside the historic building had demolition not been rushed, said Suzanne Smith of Seneca County's Eden Township.
"You cannot tell me this building will be built as sturdy and as beautifully as the building that we had, but regardless of that it has to be done. We have to do it," she said.
Architectural and design work would need to be completed should the county and city agree to proceed. Mayor Montz said a new structure should blend with downtown's architecture.
"There is no way that I will stand for a block building," he said.
County and city officials said no additional taxes will be required to pay for the project. The county would pay for about 75 percent of the courthouse building because it would use three of the 36,000-square foot building's four floors. A down payment of about $3.3 million would come from the county, city, court fees, and a $500,000 interest-free loan from the state.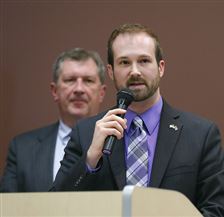 Tiffin Mayor Aaron Montz speaks after a presentation showing the results of a roughly year-long study examining the concept of a potential Shared Justice Center during a meeting with North Central Ohio Regional Council of Governments in Tiffin.
THE BLADE/AMY E. VOIGT
Enlarge | Buy This Image
The remainder of the cost likely would come from bonds.
A new building would house common pleas courts, the municipal court, and Clerk of Court's law and title offices. The county's juvenile and probate court would move from its location in the old Carnegie Library, which is not handicap accessible, into the Annex. The municipal court's current space would be used by city police and engineering staff.
Mr. Zoeller expects the county commissioners to begin considering the proposal at a Tuesday meeting. The Tiffin City Council will hear about the plan at a March 17 meeting.
If there's support for the project, discussions would continue about financing it and designing the building, officials said.
Construction could start in late 2015, and finish a year later, Mr. Zoeller said.
The project would be the first in the state to be planned and built by both a county and city, officials said.
Contact Vanessa McCray at: vmccray@theblade.com or 419-724-6065, or on Twitter @vanmccray.
Guidelines: Please keep your comments smart and civil. Don't attack other readers personally, and keep your language decent. Comments that violate these standards, or our privacy statement or visitor's agreement, are subject to being removed and commenters are subject to being banned. To post comments, you must be a registered user on toledoblade.com. To find out more, please visit the FAQ.