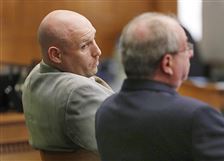 David Zielinski, left, talks to attorney Mark Geudtner during his trial in Lucas County Common Pleas Court. He is charged in the fatal shooting and stabbing of Michael Jackson.
THE BLADE/DAVE ZAPOTOSKY
Enlarge | Buy This Image
After escaping her estranged husband, a frantic Amber Hayes told a 911 operator that David Zielinski had just shot someone at her home and was shooting at her as she sped away from him.
"He came in the house, and he shot the man I was with," Ms. Hayes could be heard telling the 911 operator. "… I am bleeding. He punched me. He shot my car."
While jurors got to hear the 911 recording Tuesday, they also heard Ms. Hayes testify about the night she said Mr. Zielinski broke into her West Central Avenue home and fatally shot her boyfriend, Michael Jackson, 20.
Mr. Zielinski, 34, of 3859 Berkey Southern Rd., Swanton Township, is on trial on charges of aggravated murder, attempted murder, kidnapping, and aggravated burglary.
Ms. Hayes said she met Mr. Zielinski in April, 2012, and married him June 7, 2013. She said he left just a couple weeks later, on June 25, and never stayed at her house again.
After he posted threatening messages to her on Facebook, she called police to file a complaint against him July 13. It was during the next morning's wee hours, she testified, when she and Mr. Jackson were in bed upstairs and heard what she thought was her cat coming up the stairs.
"I rolled over to ash my cigarette, looked back up, and I seen a white shirt, and I seen David," Ms. Hayes told the jury. "… He said, 'You sleeping with my wife [racial epithet].' "
She said Mr. Zielinski immediately raised his arm, leaned forward over her, and fired "four or five" times at Mr. Jackson. He also hit her on the forehead with the butt of a large knife and punched her on the side of her head, she said.
Ms. Hayes said the two of them left the house in her car after they went back inside to retrieve his knife and after he told her if police came, he would shoot her and then shoot himself.
She drove a few blocks to Auburn Avenue where his pickup was parked. Ms. Hayes said Mr. Zielinski honked her car's horn and, when nothing happened, he got out and approached his pickup. Despite his warning not to try anything, she drove off, she said, and he fired shots at her car, shattering her passenger-side windows.
In opening statements Tuesday morning, Ian English, an assistant county prosecutor, told the jury Mr. Zielinski was "fueled with jealousy, enraged by hate, and guided to violence" the night he crawled into Ms. Hayes' West Central Avenue home through a first-floor window, crept upstairs, and shot Mr. Jackson.
He didn't stop there, Mr. English said, but went on to stab and pistol-whip Mr. Jackson before leaving the house with Ms. Hayes.
Defense attorney Mark Geudtner countered in his opening statement that Mr. Zielinski was the natural suspect because "Michael Jackson was shot six times while he was in another man's house, in another man's bed with another man's wife," but that does not mean Mr. Zielinski was the killer.
The state's case, the lawyer said, is built around the say-so of Ms. Hayes, who he described as "unbelievable, self-absorbed, manipulative, and a liar."
Contact Jennifer Feehan at:
Contact Jennifer Feehan at: jfeehan@theblade.com or 419-213-2134.
Guidelines: Please keep your comments smart and civil. Don't attack other readers personally, and keep your language decent. Comments that violate these standards, or our privacy statement or visitor's agreement, are subject to being removed and commenters are subject to being banned. To post comments, you must be a registered user on toledoblade.com. To find out more, please visit the FAQ.