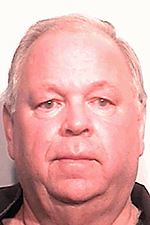 Bradford Huebner
An Ottawa Hills businessman convicted by a federal court jury of convincing investors to purchase Iraqi currency under false pretenses is asking the court to acquit him on 29 of the 42 counts.
Bradford Huebner, 66, was found guilty May 22 on all counts against him, but in a motion filed in U.S. District Court on Thursday, he asked the court to acquit him on 29 counts of structuring transactions to evade reporting requirements.
Huebner contends the government failed to prove he knew of the reporting requirement for cash deposits of $10,000 or more before Dec. 27, 2010.
His filing comes one day after co-defendant Charles Emmenecker, 67, of Sylvania petitioned the court for a new trial. Huebner and Emmenecker were convicted of conspiracy to commit wire fraud in connection with the $24 million scheme.
Guidelines: Please keep your comments smart and civil. Don't attack other readers personally, and keep your language decent. Comments that violate these standards, or our privacy statement or visitor's agreement, are subject to being removed and commenters are subject to being banned. To post comments, you must be a registered user on toledoblade.com. To find out more, please visit the FAQ.