Defense attorneys Bobby Kaplan, left, and Pete Rost, right, with their client, Andrew Gustafson, center.
The Blade/Jetta Fraser
Enlarge | Buy This Image
The DNA sample that allegedly links a former Swanton Township man to the 1983 murder of Janean Brown was obtained in 2007 without a warrant by detectives who were investigating an unrelated sexual assault at the time, defense attorneys argued Monday.
Andrew Gustafson, 57, of Birch Run, Mich., is asking Lucas County Common Pleas Judge Gary Cook to suppress the DNA evidence as well as statements he made to investigators in 1983 and in 2013 about the slaying of Ms. Brown, 19, of Whitehouse.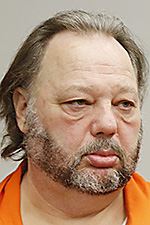 Gustafson
THE BLADE
Enlarge | Buy This Image
Mr. Gustafson is charged with two counts of aggravated murder and one count of murder in the death of Ms. Brown, whose body was found Nov. 19, 1983 in a ditch near Mr. Gustafson's home. Her throat had been cut.
In court Monday, retired Lucas County Sheriff's Det. Sgt. Daryll Symington recalled interviewing Mr. Gustafson at his home the day after Ms. Brown's remains were found along Archbold-Whitehouse Road, saying Mr. Gustafson was not a suspect at that time and therefore he did not read him his Miranda rights.
"I talked to him because his house was right next to the location where we discovered the body and had talked to him because he was a neighbor, asked him if he saw anything," Mr. Symington said, adding that he spoke with Mr. Gustafson for about 10 minutes.
"He told me that he didn't know anything about it, didn't see anything, that he did not know Janean Brown," he said.
The former detective said he returned three days later to serve a search warrant at Mr. Gustafson's house and seize his van. On that date, Mr. Symington said he read him his rights, and Mr. Gustafson told him he had nothing to say. After that, investigators were advised not to contact the suspect because he had an attorney who advised him not to speak with them.
Bobby Leist, Jr., a retired lieutenant from the sheriff's office, said he first spoke to Mr. Gustafson in 2007 during the investigation of a sexual assault complaint aimed at Mr. Gustafson. He said he went to the Moose Lodge in Whitehouse to ask Mr. Gustafson for a swab of his mouth to use in DNA testing relating to the complaint.
"He was a little nervous, but he was cooperative," Mr. Leist recalled.
Under cross-examination by defense attorney Pete Rost, Mr. Leist said he also had been in charge of an undercover drug investigation in 1986 in the Waterville/​Whitehouse that was aimed at trying to develop new information about Ms. Brown's homicide. No charges resulted from that investigation or from the sexual assault case, he said.
Tom Ross, an investigator with the Lucas County Prosecutor's Office and member of the cold-case unit, testified that in February, 2013, he and now-retired Det. Bart Beavers went to Birch Run to talk with Mr. Gustafson at his home about the Brown case. Mr. Ross said he did not read Mr. Gustafson his rights that day because they did not intend to take him into custody.
Four months later, Toledo police Detective Jay Gast, also a member of the cold case unit, interviewed Mr. Gustafson after his June 6 arrest, first reading him his rights. While Mr. Gustafson twice mentioned getting ahold of his attorney, Detective Gast said he had "not specifically" asked for legal counsel during the interview, which lasted more than an hour.
"Was the interrogation terminated because you were done or was it terminated because Mr. Gustafson finally was specific in your mind about asking for a lawyer?" Mr. Rost asked him.
"We were done and he was more specific. It was kind of almost coinciding, I guess," Detective Gast replied.
Judge Cook did not rule on the two motions to suppress but continued the hearing until Aug. 27 to take testimony from former Lucas County sheriff's Detective Cathy Stooksbury, who could not be located Monday.
Contact Jennifer Feehan at: jfeehan@theblade.com or 419-213-2134.
Guidelines: Please keep your comments smart and civil. Don't attack other readers personally, and keep your language decent. Comments that violate these standards, or our privacy statement or visitor's agreement, are subject to being removed and commenters are subject to being banned. To post comments, you must be a registered user on toledoblade.com. To find out more, please visit the FAQ.