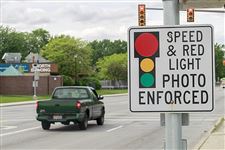 A signs warns motorists of an approaching traffic-enforcement camera near the intersection of Cherry Street and East Delaware Avenue in Toledo.
THE BLADE
Enlarge | Buy This Image
It's been more than 100 years since turn-of-the-century Progressives got their way and amended the Ohio Constitution to grant cities the power to decide their own forms of government.
Since then, the Supreme Court has, at times, upheld and, at others, struck down local laws as in violation of the state Constitution's Home Rule Amendment.
The tension of local-vs.-state power is rising again with an effort by the Republican-controlled Ohio House of Representatives to punish local communities that use red-light and speed-enforcement cameras.
When Ohio passed its first Constitution in 1802, it didn't allocate much space to the specific rules for cities, towns, villages, and townships.
When a community wanted to form as a city, the General Assembly simply passed a law establishing that city. The rules weren't always the same.
According to Charles Hallinan, a law professor at the University of Dayton, municipal corporation laws began gaining consistency in the 1830s and 1840s.
The political wave of Progressivism that swept the country at the end of the 19th century had an impact on Ohio. The Home Rule Amendment adopted in 1912 allowed cities to adopt a charter with a form of government of their own choosing.
"The thought was that freeing government from politics would make for better government. That was a big part of what the Progressive movement was about," Mr. Hallinan said. It was the era when city managers were being adopted.
Toledo was one of the Ohio cities that took the new opportunity to establish their own charter and adopted a city-manager government. It remained that way until 1992, when voters decided to go back to a strong-mayor form of government.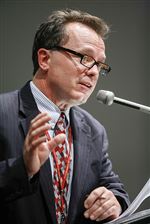 City Law Director Adam Loukx says red-light cameras are an example of home rule. But the Ohio General Assembly says they fall under intrastate travel.
THE BLADE/JEREMY WADSWORTH
Enlarge | Buy This Image
"The constitutional part hasn't changed since 1912, but the regard that the judiciary has had for the home-rule power has swung back and forth over the intervening 100 years," Mr. Hallinan said. "It can be kind of hard to harmonize the cases one with the other."
Self-governance?
Mr. Hallinan said the main factor in knowing whether Ohio's home-rule amendment applies is whether the law in question falls under a city's right of local self-governance or under its general police powers.
"Self-governance is protected under the home-rule amendment while police powers is not," he said.
Here's the key paragraph of Article 18 of the state Constitution: "Municipalities shall have authority to exercise all powers of local self-government and to adopt and enforce within their limits such local police, sanitary, and other similar regulations, as are not in conflict with general laws."
In recent weeks, the common pleas courts in the counties that contain Toledo, Akron, and Dayton have granted injunctions to block enforcement of a new state law aiming to curtail traffic cameras. The law allows the use of the cameras but requires that a police officer be present — a rule the cities say makes the cameras economically impractical.
"My own sense is that depending in how it's framed, the use of red-light cameras isn't a power of local government, it's an exercise of police powers," Mr. Hallinan said. "It's certainly within the purview of the General Assembly to set rules on traffic."
City Law Director Adam Loukx said he believes the Supreme Court's rulings on home rule have been consistent and that the power to enforce traffic laws in Toledo falls more under the application of local government than police powers since the red-light cameras do not change the state's traffic laws.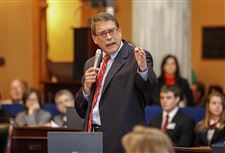 Republican Ohio Sen. Bill Seitz argues that red-light cameras fall under the General Assembly's jurisdiction of intrastate travel rather than home rule.
COLUMBUS DISPATCH Enlarge
"The city of Toledo would say the state has no business telling us how to set up our administrative process," Mr. Loukx said.
'Intrastate travel'
Red-light and speed-enforcement cameras have attracted the ire of state Sen. Bill Seitz (R., Cincinnati). He said different rules apply in every city, and he said that, despite cities' claims that the cameras are for safety, he believes they amount to a cash grab, especially on people passing through the city.
A lawyer, he suggested a higher constitutional principle than home rule — "intrastate travel."
"Having all these different municipalities with all their different rules on how red-light cameras are calibrated, administrated, how appeals are handled, how lease cars are handled, having all them with different rules on that subject, in my view, is a disservice to the constitutional right of intrastate travel," Mr. Seitz said.
"If they want to apply their rules on their own residents that would be one thing, but know they're doing this to gin up money on passing commuting motorists," he said. "It's bad enough they're allowed to tax their income."
Mr. Seitz objected to the fact that more than 50 percent of red-light citations in Columbus were brought against motorists failing to come to a complete stop while turning right on red.
Mr. Loukx said the constitutionality of the law doesn't depend on whether the city's fines are levied on its own citizens or nonresidents who happen to drive on the city's streets.
"And guess what; we do expect motorists whether they're from this city or another to actually stop when a light turns red. And guess what; we're not ashamed of it," Mr. Loukx said. "Does he understand that a red light is something that you should obey not just when a police officer is there?"
Court rulings
The Supreme Court has upheld municipal home rule in many instances.
In a 1994 case involving the rights of communities to enforce speeding laws, the Supreme Court struck down a state law aimed at barring the village of Linndale in Cuyahoga County from ticketing drivers on the short section of I-71 that passed through the village. On a 4-3 vote, justices said the law voided the communities' powers of home rule.
However, in several recent high-profile cases, the Supreme Court has sided with the state against communities.
In 2009, the Ohio Supreme Court upheld a state law prohibiting residency requirements. The 5-2 ruling agreed that residency fell under the state's power to regulate hours of labor, minimum wages, and the general welfare of all employees. Chief Justice Thomas Moyer dissented, saying the balance struck in the Ohio Constitution between local government and the General Assembly was tipped dramatically against the authority of local elected officials.
In 2008, the state Supreme Court ruled 4-3 that a ban imposed by the Sandusky County city of Clyde conflicted with Ohio's concealed-carry gun law.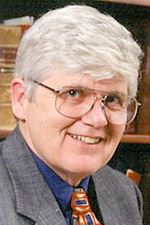 Hallinan
NOT BLADE PHOTO Enlarge
The use of red-light and speed-enforcement cameras already has received a vote of approval from the Ohio Supreme Court, though not in a full-blown test of a state law. In 2008, a federal judge hearing a federal constitutional question about the cameras asked the Ohio Supreme Court whether the cameras conflicted with state law. The state court said the cameras are an extension of local police powers and do not overstep home-rule authority under the Ohio Constitution.
And in December, the Supreme Court upheld Toledo's red-light cameras in a narrow case.
In a 4-3 decision, the high court found that an administrative hearing process does not unconstitutionally usurp the authority of Toledo Municipal Court.
The cameras account for some $2.1 million a year in fine revenue.
Last month, judges in Summit, Montgomery, and Lucas counties granted injunctions to block enforcement of the new red-light camera law, which went into effect in March. The state is expected to appeal all the way to the Supreme Court.
Mr. Seitz, the author of the traffic camera law, said he believes there is a good chance the Supreme Court will uphold the law requiring police officers to be present when cameras are in operation, but that won't be known for a couple of years.
Withholding funds
Just to make sure the cities don't get away with "flouting state law," as Mr. Seitz put it, the Republican-controlled House of Representatives last month inserted into the two-year budget bill an amendment that strips a dollar of local government funds out of the budget for every dollar that cities continue to collect from traffic cameras. None of Toledo's representatives in the General Assembly expressed disagreement with the amendment during a five-hour debate on the budget. That bill still has to pass the Senate and gain the signature of Gov. John Kasich.
As for the state deducting the revenue that cities get from red-light and speed cameras from their local government fund, he said it's a right of the legislature. He likened it to a disapproving parent allowing an 18-year-old to do what he wants to do, but the parent stopping the allowance to pay for it.
Mr. Seitz suggested that Ohio's Home Rule Amendment isn't as important to municipalities as it was in 1912. That was before the U.S. Supreme Court mandated in the 1960s that legislatures must represent each voter proportionally, known as "one man, one vote."
"The General Assembly prior to that time was lopsided and the rural areas had disproportionate influence compared to the highly populated cities and that was what led to adoption of home rule in the first place because they could not get a fair shake in the General Assembly," Mr. Seitz said.
Mr. Hallinan said the General Assembly's encroachment on home rule could be seen as contrary to the "federalist" spirit of the Republican Party, which controls the legislature.
"It's the principle that underlies federalism. The idea is that it is consistent in the line of the Magna Carta to the Declaration of Independence in the sense that as a general matter you can hope for better protection of your liberties if the government power is devolved to the lowest level of government that is capable of handling it," Mr. Hallinan said.
On the other hand, some of the worst abuses of liberty have been carried out in the name of local rights, such as the long history of racist Jim Crow laws in the South.
"It's not an inviolable principle," Mr. Hallinan said.
Mr. Loukx vehemently disagreed with Mr. Seitz's interpretation of home rule as being less important now than in 1912.
"He's more of a divine right of kings guy, I think," Mr. Loukx said. "Fortunately however, we aren't a country that loves kings more than it loves democracy, and there's no better form of democracy than home rule."
Contact Tom Troy: tomtroy@theblade.com or 419-724-6058 or on Twitter @TomFTroy.
Guidelines: Please keep your comments smart and civil. Don't attack other readers personally, and keep your language decent. Comments that violate these standards, or our privacy statement or visitor's agreement, are subject to being removed and commenters are subject to being banned. To post comments, you must be a registered user on toledoblade.com. To find out more, please visit the FAQ.