A Toledo Municipal Court judge set bond at $1 million Friday for a central city man accused of firing a gun at a Toledo police officer.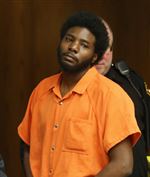 Jayvon Wynne is arraigned Friday December 8, 2017 in Toledo Municipal Court. He is charged with felonious assault after police said he fired at officers Wednesday evening in the 2800 block of Monroe Street.
The Blade/Dave Zapotosky
Enlarge | Buy This Image
Jayvon Wynne, 22, of the 700 block of Blum Street, appeared before Judge Joshua Lanzinger on a felonious assault charge, a first-degree felony. Judge Lanzinger set bond at $1 million, with no 10 percent allowed.
During a traffic stop at the Monroe Carryout, Mr. Wynne is accused of firing two rounds from a 9mm pistol at Toledo police officer Norman Cairl before fleeing from a carryout on Monroe Street, according to an affidavit filed in Toledo Municipal Court. While being pursued, he then pointed the gun at police Sgt. Duane Poole after the officer identified himself, court documents show.
RELATED: Area shootings blamed on gang activity
Toledo police detectives said they made a stop on a vehicle carrying Mr. Wynne and co-defendants, Phillip Overton, 22, of the 1200 block of Mason Street, and Richard Morris, Jr., 26, of the 1000 block of Markham Court, all who have gang affiliations, according to police. The stop, which happened about 7:30 p.m. Tuesday, was made in connection to an investigation to recent shooting incidents, police said.
When officers approached the vehicle, the two men in the car began firing, police said. Officers retreated and returned fire, striking both Mr. Wynne and Mr. Morris. They were treated for their injuries, which were described as not life-threatening.
Mr. Overton was taken into custody without incident and charged with improperly handling a firearm in a motor vehicle. He was not injured, police said.
On Thursday, Mr. Overton was arraigned in Toledo Municipal Court, where his bond was set at $250,000.
Mr. Morris, Jr. is also charged with felonious assault, a first-degree felony. He has not appeared in court.
Federal charges are possible for the three as investigators review the case.
Toledo police continue to investigate.
Contact Allison Reamer at areamer@theblade.com, 419-724-6506, or on Twitter @AllisonRBlade.
Guidelines: Please keep your comments smart and civil. Don't attack other readers personally, and keep your language decent. Comments that violate these standards, or our privacy statement or visitor's agreement, are subject to being removed and commenters are subject to being banned. To post comments, you must be a registered user on toledoblade.com. To find out more, please visit the FAQ.