The Toledo man accused of shooting and wounding a police detective was wheeled into Lucas County Common Pleas Court Monday for his first in-person appearance since his indictment.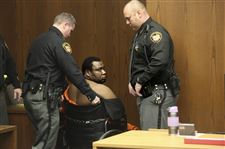 Jamaine Hill, 38, who is accused of firing multiple times, striking Detective Jason Picking in the face during a search warrant in West Toledo, appears for his arraignment in Toledo Municipal Court on Nov. 17, 2017. He appeared in front of Lucas County Common Pleas Judge James Bates on Monday.
THE BLADE
Enlarge | Buy This Image
In December, Judge James Bates went to the hospital room of Jamaine Hill, 38, of the 4100 block of Caroline Avenue to arraign him on seven counts of felonious assault and one count of having a weapon while under disability.
Hill is charged with shooting Toledo Police detective Jason Picking in the mouth Nov. 16 as the detective assisted with the execution of a search warrant at Hill's home. Police say Hill fired multiple shots through the front door at detective Picking and six other officers.
Judge Bates postponed Hill's trial until March 27.
Defense attorney John Thebes asked the court to release Hill, an amputee with "a variety of extremely serious medical issues," on electronic monitoring. Hill now is being held in the Lucas County jail on a $500,000 bond.
"Every day he goes back to [the hospital] for treatment, usually every morning," Mr. Thebes said. "He's in danger, quite frankly, of losing his other leg. If the court would allow him, it would be easier and better for his health."
Dexter Phillips, an assistant county prosecutor, objected, citing the seriousness of the charges Hill faces.
"The defendant has been admitted to the hospital for periods of time during the pendency of this case," he said. "It's the state's understanding he's been unavailable to talk to counsel, unavailable for court, and there has been no change of circumstances."
Judge Bates denied the request to modify Hill's bond, saying Hill had a history of failing to appear in his prior record.
Contact Jennifer Feehan at jfeehan@theblade.com or 419-213-2134.
Guidelines: Please keep your comments smart and civil. Don't attack other readers personally, and keep your language decent. Comments that violate these standards, or our privacy statement or visitor's agreement, are subject to being removed and commenters are subject to being banned. To post comments, you must be a registered user on toledoblade.com. To find out more, please visit the FAQ.