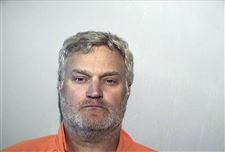 Russell J. Smith
NOT BLADE PHOTO Enlarge
A former assistant football coach at Springfield High School admitted Wednesday that he downloaded child pornography on a laptop computer at his home.
Russell J. Smith, Jr., 51, of the 2200 block of Sherwood Avenue pleaded guilty in U.S. District Court to one count of receipt and distribution of child pornography for activity that occurred between March 15 and Aug. 10 of last year.
Judge James Carr told him that he faces a mandatory minimum prison term of five years and a maximum possible sentence of 20 years when he is sentenced May 21.
Tracey Ballard Tangeman, an Assistant U.S. Attorney, told the court that an undercover Internet investigation initiated by Sylvania Police Det. Josh Seney led police and FBI agents to Smith's apartment, where they executed a search warrant Aug. 10.
When agents entered his home, Smith was there alone, she said, and had child pornography files "actively downloading at that time. He admitted to downloading child pornography for approximately a year and a half."
Ms. Tangeman said Smith admitted that he would search for, then download, images of minors involved in sexually explicit conduct. Smith would then delete the files after viewing them, she said, "however he admitted that he would always go back and download more."
Judge Carr asked Smith if that was correct. After consulting with public defender Donna Grill, Smith replied that it was.
"What is your plea to the charge?" the judge then asked.
"Guilty," Smith said.
Smith had been employed as an assistant football coach at Springfield since the fall of 2013 but was placed on administrative leave after his arrest and later fired by the school board. He held no other positions with the school district.
In addition to prison time, Smith faces a possible fine and restitution, forfeiture of his laptop, and designation as a sex offender who must register his address once he's released from prison.
Judge Carr permitted him to remain free on bond.
Contact Jennifer Feehan at: jfeehan@theblade.com or 419-213-2134.
Guidelines: Please keep your comments smart and civil. Don't attack other readers personally, and keep your language decent. Comments that violate these standards, or our privacy statement or visitor's agreement, are subject to being removed and commenters are subject to being banned. To post comments, you must be a registered user on toledoblade.com. To find out more, please visit the FAQ.