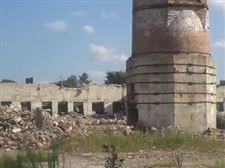 The ruins of the Toledo Edison Acme power plant in the Marina District.
THE BLADE
Enlarge | Buy This Image
The videos that point out blemishes in the city of Toledo landscape disappeared from public access on YouTube on Monday during the midst of a Blade effort to identify the anonymous creator of the mysterious series.
During the day, YouTube denied access to videos from EconCat88, saying they were private. A day earlier there were nearly 600 public videos, many of them devoted to portraying urban decay in Toledo.
So far, the man behind "EconCat88" has refused entreaties from The Blade by way of telephone, email, two visits to his home in West Toledo, and stories seeking an interview with him.
EconCat88's channel on YouTube indicated that he had more than 1.1 million views, prompting many area promoters to fret that he was giving Toledo a bad name. Many of the videos were 10 minutes long and consisted of EconCat88 filming empty or abandoned public spaces, such as the Marina District or newly built, federally financed housing that is now boarded up, while he commented on the decay, often blaming local government.
Mayor-elect D. Michael Collins welcomed EconCat88's decision to remove his videos from public view.
"I am pleased that he realizes that there was no value added in what he was doing," Mr. Collins said. "However, that doesn't change the issues. I'd like him to be a vehicle to move the city in a progressive direction, and I welcome his participation when I take office."
The videos may not be gone for good, and at least one came back up on YouTube Monday night. A person posting on toledotalk.com wrote, "The videos were temporarily removed but will return later this week. ... My phone hasnt stopped ringing, and I dont have time to deal with this right now." The person commented later that, "I would be willing to make a video with finkbeiner when I have time after thanksgiving. Would be a real laugher."
Former Mayor Carty Finkbeiner offered on Sunday to take EconCat88 on a tour of Toledo to show off its dynamic redevelopment.
Hugh Collins, a supporter of EconCat88 and not a relative of the mayor-elect, said he liked the videos and agrees with what he thinks is the videographer's perspective.
"I basically just agree with his point of view. This city's got a lot of problems. It's just plain to see," Mr. Hugh Collins said. "What he's getting at is, look at the condition of these neighborhoods and the city that we live in.
"The question you have to ask is, how did we get so impoverished? You can't really work on the solutions until you acknowledge there is a problem. He's just being realistic."
The owner of a small advertising agency, Mr. Hugh Collins, 56, said Toledo is not all bad and one of the advantages of Toledo living is the low cost of real estate. Mr. Hugh Collins lives in the LaSalle Apartments downtown.
"We benefit from the low property values. It's a very affordable place to live, and you're able to do your own thing. I've got a nice loft apartment here downtown. It's got a city feel, and it's affordable," said Mr. Hugh Collins, who pays $650 a month in rent. "It's a great base to work out of."
Ironically, Mr. Hugh Collins' apartment building exists because the city financed the rehabilitation of the former Lasalle's department store building into apartments in 1995.
City Councilman Steven Steel, who knows EconCat88 personally and has unsuccessfully reached out to him to take public ownership of the videos, said the best course is to promote an alternative outpouring of videos that portray the positives of Toledo. He suggested The Blade or some other local entity create a video-hosting Web site where contributions can be posted and viewed.
"I'm trying to figure out exactly how to do it as a response or an alternative to give average folks a space to do quick videos of what they enjoy about Toledo," Mr. Steel said.
As an example, Mr. Steel pointed to the local Web site enjoyingtoledo.com.
Jeff Schaaf, brand manager for the Toledo Brand Initiative project, also provided a list of Web sites that portray Toledo in a wide variety of lights, including facebook.com/​groups/​toledohio/, and toledowiki.net/, among others.
Until this weekend, of the top 10 results for a "Toledo Ohio" search on the video sharing Web site YouTube, five were by EconCat88, who seemed to enjoy filming Toledo at its worst.
The first search result was an EconCat88 video called "Toledo, Ohio — Welcome to America's 11th most-miserable city." There also were the sarcastically titled "Welcome to Downtown Toledo Ohio's fabulous nightlife," "Welcome to Toledo, Ohio — America's 8th most-miserable city and economic collapse headquarters," followed by "Downtown Toledo, Ohio — believe it or not, nearly 300,000 people live here," and "Welcome to Downtown Toledo, Ohio — renaissance or fool's gold?"
Contact Tom Troy: tomtroy@theblade.com or 419--724-6058 or an Twitter @TomFTroy.
Guidelines: Please keep your comments smart and civil. Don't attack other readers personally, and keep your language decent. Comments that violate these standards, or our privacy statement or visitor's agreement, are subject to being removed and commenters are subject to being banned. To post comments, you must be a registered user on toledoblade.com. To find out more, please visit the FAQ.