Fireworks during the Star Spangled Celebration at Centennial Terrace on July 3, 2014.
The Blade/Amy E. Voigt
Enlarge | Buy This Image
Three Toledo suburbs let off fireworks Thursday night in celebration of the Fourth of July.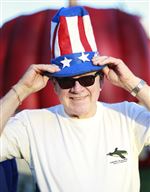 Denny Brown of Florida poses for a portrait with his America-themed hat at the Star Spangled Banner celebration held at Fort Meigs in Perrysburg, Ohio.
The Blade/Isaac Hale
Enlarge | Buy This Image
Sylvania's fireworks show was held at Centennial Terrace, and Perrysburg and Maumee joined together across the Maumee River in their display.
PHOTO GALLERY: Click here to see photos from Sylvania.
PHOTO GALLERY: Click here to see photos from Perrysburg/Maumee.
Guidelines: Please keep your comments smart and civil. Don't attack other readers personally, and keep your language decent. Comments that violate these standards, or our privacy statement or visitor's agreement, are subject to being removed and commenters are subject to being banned. To post comments, you must be a registered user on toledoblade.com. To find out more, please visit the FAQ.