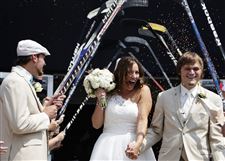 Ben and Courtney Sikkenga exit the Lakeshore Ice Center after their wedding in Fruitport Township, Mich.
ASSOCIATED PRESS Enlarge
MUSKEGON, Mich. — The bride wore white — and stainless steel.
Ben and Courtney Sikkenga were married Saturday at a western Michigan ice rink where they first met in seventh grade.
Ben is a 23-year-old lifelong hockey player. Twenty-four-year-old Courtney is his biggest fan. The Muskegon Chronicle says groomsmen and bridesmaids got dressed in locker rooms at Lakeshore Sports Centre before skating on the ice.
Guests had the option of sitting in chairs on the ice or on benches behind the protective glass.
The newlyweds left the rink by walking under raised hockey sticks.
Information from: The Muskegon Chronicle, http://www.mlive.com/muskegon
Guidelines: Please keep your comments smart and civil. Don't attack other readers personally, and keep your language decent. Comments that violate these standards, or our privacy statement or visitor's agreement, are subject to being removed and commenters are subject to being banned. To post comments, you must be a registered user on toledoblade.com. To find out more, please visit the FAQ.