Ahead of this weekend's annual Lagrange Street Polish Festival, a few ladies at the Zablocki Senior Center were busy hand making pierogi.
They rolled, stuffed, crimped, and baked 200 to 300 of the dumplings all for the festival's hungriest of the hungry: the hungry few who will sit down in hopes of being crowned the prince or princess of the pierogi-eating contest.
Want in?
All you have to do is be one of the first 10 people to sign up at the festival before the contest, which is 4 p.m. Saturday.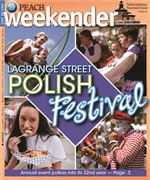 THE BLADE
Enlarge | Buy This Image
To prepare, if you really can prepare for such a thing, "don't fill your stomach with water and beer beforehand," said Steve Seaton, executive director of United North, the sponsoring organization. "You can bring water with you to wash it down if you want."
Jim Gramza, executive director of Zablocki, said residents of the center have made or provided the pierogi for the eating contest every year since the contest began.
"Every year they ask for ours, so they must be decent," he said.
Their secret?
"I think ours are just better because of the people," Gramza said.
The festival, in its 32nd year, starts Friday when the gates open at 5 p.m. Admission is $5, but only $3 on Sunday. Children 8 and younger are admitted for free; anyone younger than 18 must be accompanied by an adult.
This year, the importance of the festival and other summertime ethnic festivals is heightened, Seaton said.
"Particularly this year we are really focused on the north end being welcoming of immigrants," Seaton said. " … Really, I think these ethnic festivals are a reminder that our nation was founded by immigrants and that they enrich our area."
The festival is hosted on Lagrange Street, which is closed between Central Avenue and Mettler Street, the heart of the business district in the Polish International Village in North Toledo.
"We turn the entire area into a family friendly beer garden," Seaton said.
Chris Zielinski of Toledo eats kielbasa during the Lagrange Street Polish Festival.
THE BLADE/JEREMY WADSWORTH
Enlarge | Buy This Image
Craft beer tastings will be offered from 6 to 8 p.m. Friday and from 5 to 7 p.m. Saturday. Flights of beer will be available.
Numerous activities will be available for children, including magic shows and a circus, which are ongoing throughout the festival. Old Polish cartoons will be shown at the Ohio Theatre — where there will also be air conditioning — for families to cool off or take a break from all the excitement.
What would the Polish Festival be without dancing?
The Echoes of Poland dancers will perform from 4:30 to 5:30 p.m. Saturday. Any couple willing to put their skills up against other dancers can join the polka contest at 3 p.m. Sunday.
Dancers of all ages and skill level are welcome.
"As long as you're in a pair, it doesn't matter," said Nikki Morey, senior manager of community planning at United North.
A full schedule of events is online at polishfestival.org/​schedule.
Contact Taylor Dungjen at tdungjen@theblade.com, or 419-724-6054, or on Twitter @taylordungjen.
Guidelines: Please keep your comments smart and civil. Don't attack other readers personally, and keep your language decent. Comments that violate these standards, or our privacy statement or visitor's agreement, are subject to being removed and commenters are subject to being banned. To post comments, you must be a registered user on toledoblade.com. To find out more, please visit the FAQ.