Births
ProMedica Toledo Hospital
Megan and Sean Boyle, Perrysburg, girl, Feb. 24.
Marriage licenses
Lucas County
Feb. 26, 2018
Jason Bernard, 41, estimating coordinator, and Julie Smith, 29, nurse, both of Holland.
Matthew McCormick, 25, eligibility specialist II, of Holland, and Molly Bok, 21, student, of Elida, Ohio.
Zachary Cook, 23, production operator, and Paige Pope, 22, both of Toledo.
Oscar Smith, Jr., 61, retired, and Dorothy Burton, 80, retired, both of Toledo.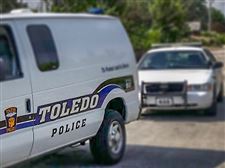 TOLEDO POLICE DEPARTMENT Enlarge
Crime reports
Felonious assaults
Josep Hinton, shot in 1600 block of Macomber.
Paul King, shot in the stomach in 1600 block of Brussels.
Robbery
Samantha Kaszubski, vehicle from 3100 block of Elm; vehicle was later recovered.
Burglaries
Codi Humphrey, unknown loss from residence in unit block of City Park.
Jessica Fuller, video game, video controllers, and video cartridges from residence in 100 block of Emery.
Homer Willard, building supplies and fire pit from residence in 700 block of Yondota.
Craig Allen, assorted tools from 1600 block of Starr.
Mautrice Richards, television and wallet with contents from 400 block of Melrose.
Essence Scott, no loss reported from residence in 500 block of Maumee.
Kenya Cooke, medication from residence in 2500 block of North Erie.
Darryl Boyd, no loss reported from residence in 300 block of Austin.
Thefts
Kanicka Irish, wallet with contents from 1300 block of Monroe.
Danielle Allen Beat, wallet with contents from vehicle in 5900 block of Gany Mede.
Nicole Laraby, credit card from 2800 block of Northwood.
Christopher Wulf, firearm from 2700 block of Tremainsville.
Divorces granted
Lucas County
Miata Kollie from Shean Brooks.
Nicole Smith from Justin Smith.
Kimberly Arnold from Peter Arnold.
Lorie Garrett from Edward Garrett, Sr.
Kathleen Mohr from Edward Mohr.
Edward Mohr from Kathleen Mohr.
Fatoumata Camara from Mamadou Camara.
Angela Pauke from Stephen Pauken.
Thomas Hartman from Betty Hartman.
Lynn Hagwood from Nehem Hagwood, Sr.
Pamela Spychalski from Aaron Spychalski.
Jacob Leiter, Sr., from Penni Leiter.
Larry Lewis from Jenny Lewis.
Guidelines: Please keep your comments smart and civil. Don't attack other readers personally, and keep your language decent. Comments that violate these standards, or our privacy statement or visitor's agreement, are subject to being removed and commenters are subject to being banned. To post comments, you must be a registered user on toledoblade.com. To find out more, please visit the FAQ.