For all the beauty when the X's and the O's meet harmoniously, football is basically a violent, nasty game.
Browns' defensive tackle Phil Taylor, who has a slight edge to him at times, said last week, "You're supposed to have a little nastiness in you. You need a few guys that have that nasty streak when you need it. [But] being stupid and being nasty are two different things."
All of which brings us quite nicely to Ndamukong Suh of the Detroit Lions, who face the surging Browns today in Cleveland.
Suh is one of the premier interior linemen in the NFL. He can be among the most dominant defenders in the game. He can be nasty. And he can be stupid.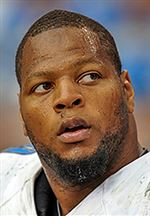 Suh
AP Enlarge
He has been fined five times and suspended once during a career that is still in the early stages of its fourth season. His appeal of a $100,000 fine, the largest in league history for an on-field incident, was denied Friday.
So, his tab since the start of the 2010 season, when his first fine came for spiking then-Browns quarterback Jake Delhomme to the ground, has reached $342,000, including two game checks he was docked during a suspension.
Even for a millionaire athlete, that's not exactly pocket change.
Suh doesn't seem fazed by it.
"I'm never going to change," he said on a teleconference last week, prior to the appeal being denied.
"I don't know how many times I'll have to say it."
Apparently, Suh's aggressive play, the occasional cheap shots and all, will continue, and so will close scrutiny from NFL officials on the field and off.
Yes, it's a nasty game, but it is also a different game today with the emphasis on protecting players against concussions and other unnecessary injuries.
On Thanksgiving Day, 2011, Suh was penalized, ejected and suspended for driving Evan Dietrich-Smith's helmet into the ground and then stomping on the Green Bay lineman.
More recently, on opening day, he was charged with an illegal hit on Minnesota's center, John Sullivan, which negated a Detroit interception and resulted in the $100,000 fine.
"I'm going to continue to play blue-collar football and find ways to help my team be successful," Suh said. "To be dominant to where offenses have to recognize me and respect me and have to look out for me every single game.
"If I do that I think I'm on the right path to being what I want to be at the end of my career, which is somebody who has played a great game of football and had a great career."
He's well on his way with 154 tackles and 24 ½ sacks since the start of the 2010 season.
Rarely does an opponent neutralize Suh as effectively as Green Bay did last week, so he and fellow tackle Nick Fairley will be drooling today to get a shot at Cleveland's beleaguered offensive line in front of immobile quarterback Brandon Weeden, who has been sacked 16 times in three games.
"These guys are dominant players at their position," Browns coach Rob Chudzinski said of the Lions' defensive tackles. "They are two of the best and it's very difficult to get anything going against them.
"[With Detroit,] everywhere you look there are playmakers … and you start right off the bat with those two."
It's hard not to watch Suh. He's that good. But referees may be watching for another reason.
"I think people have their agendas," Suh said. "Whether that's a ref, [the] NFL, coaches, whatever it may be, people have their own perception.
"I don't really like to waste my energy to worry about what people think of me."
What people think may have been summed up nicely by Jabaal Sheard, a Cleveland linebacker.
"I respect how hard he plays," Sheard said of Suh. "He's a great player; he's a dominant player. I don't think he needs to do all the dirty stuff."
If only Suh saw it that way.
Contact Blade sports columnist Dave Hackenberg at: dhack@theblade.com or 419-724-6398.
Guidelines: Please keep your comments smart and civil. Don't attack other readers personally, and keep your language decent. Comments that violate these standards, or our privacy statement or visitor's agreement, are subject to being removed and commenters are subject to being banned. To post comments, you must be a registered user on toledoblade.com. To find out more, please visit the FAQ.