The Ohio State football machine is broken.
This is not to say the program is broken. It is not. Urban Meyer is 68-8 in six seasons in Columbus. Keep perspective here.
But what the Buckeyes lost in their alleged visit Saturday to Iowa is the benefit of the doubt.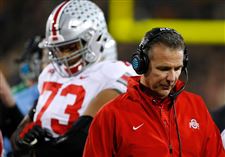 Ohio State head coach Urban Meyer, right, walks on the sideline during the second half of the Buckeyes' 55-24 loss to Iowa. The loss tied the worst margin of defeat in Meyer's career.
ASSOCIATED PRESS Enlarge
The veneer of invincibility that suggested them exempt from the natural rhythms and whims that disrupt every college football program but Alabama? That's gone.
Ohio State is about to learn how the other 98 percent lives.
In the past dozen games, the Buckeyes were dismantled in three of them and within a 2-point conversion (Michigan State), a spot (Michigan), and a near-miracle (Penn State) of losing three others. Now for the first time since a bowl ban prematurely abridged their perfect 2012 season, they will play regular-season games absent national championship implications.
The next month will tell us a lot about the character of the team, and the savvy of its staff.
We are on uncharted ground in the Meyer era.
RELATED: Breaking down Briggs' AP vote
His first five seasons, adversity qualified as a regular-season loss every two years. The Buckeyes twice went unbeaten in the regular season and lost once the three other years, including last fall, when they went 11-1 with the youngest team in the country and no downfield passing game.
It was easy to overlook all the scarlet flags in their 39-38 win against then-No. 2 Penn State, because history foretold it was all so simple. Ohio State had the best players and coach in the Big Ten. Surely, always, Meyer would find a way.
But that was not reality.
Remember Meyer's defiance after the 31-0 playoff loss to Clemson last year?
"Ohio State is not used to this," he said. "I'm not used to this, and we will not get used to this. That's not going to happen again."
Maybe we need to get used to it.
The Clemson loss came to the national champions. This was a 31-point rout to a three-loss Iowa team the Buckeyes were favored to beat by 20 — a 51-point deviation from the betting line — their collection of the most coveted athletes in the nation being run off the field by a team of three stars.
This was bad game planning, worse execution, and perhaps hubris — all of which is on the coaches. This was quarterback J.T. Barrett making reads more ill-advised than mine casting him as the Heisman frontrunner. (If I now call for Meyer to be fired, does that mean my equal and opposite overreaction cancels out the first one?) This was new offensive coordinator Kevin Wilson reverting to the same old scared, big-game play-calling. This was the linebackers joining the running backs on the missing-persons list and Greg Schiano's defense allowing 487 yards to the nation's 104th-ranked offense. This was a veteran team with championship-or-bust expectations getting walloped in the face in a challenging environment and asking for another.
I found it curious last week to hear Meyer's double-edged praise of his team's comeback against Penn State. "The team last year would not have won that game," he told reporters. "They would have dropped their head." Which was funny, because the Buckeyes team that replaced 16 starters last season won big at Oklahoma, prevailed in overtime at then-No. 8 Wisconsin, and rallied past third-ranked Michigan. That team overachieved to make the playoffs. This one loses by five touchdowns at Iowa, then doesn't make Barrett, Wilson, or Schiano available to reporters.
None of this is to cast off a season that might yet end in a Big Ten title. Or suggest Meyer has lost it. Be serious. Truth is, these first games absent the biggest stakes lend an appreciation for the illogical consistency of the past five seasons. That was not normal. Not in a transient world where staff changes, rotating rosters of 18- to 22-year-old kids, and the trappings of glory conspire to keep programs not coached by Nick Saban from permanent stays as national contenders. Look at the top teams in the latest AP poll. Five of the top 10 teams — No. 2 Georgia, No. 3 Notre Dame, No. 7 Miami, No. 8 TCU, and No. 10 Auburn — lost at least four games last year. Programs rise and fall.
But for Ohio State, the new reality is startling just the same.The Buckeyes are about to learn how the other guys live. How Meyer and his broken football machine responds will be fascinating.
■ Last and least, my vote in this week's AP poll: 1. Alabama, 2. Georgia, 3. Notre Dame, 4. Clemson, 5. Oklahoma, 6. Miami, 7. Wisconsin, 8. Washington, 9. TCU, 10. Auburn, 11. UCF, 12. Michigan State, 13. Southern California, 14. Oklahoma State, 15. Iowa, 16. Ohio State, 17. Penn State, 18. Washington State, 19. Virginia Tech, 20. Iowa State, 21. Memphis, 22. Mississippi State, 23. Toledo, 24. NC State, 25. West Virginia.
Contact David Briggs at dbriggs@theblade.com, 419-724-6084, or on Twitter @DBriggsBlade.
Guidelines: Please keep your comments smart and civil. Don't attack other readers personally, and keep your language decent. Comments that violate these standards, or our privacy statement or visitor's agreement, are subject to being removed and commenters are subject to being banned. To post comments, you must be a registered user on toledoblade.com. To find out more, please visit the FAQ.