Mud Hens fans aren't the only ones thrilled by their team's searing start.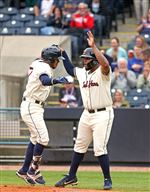 Hens infielder Edwin Espinal greets shortstop Harold Castro after Castro's two-run home run in the seventh inning Sunday.
BLADE/JETTA FRASER Enlarge
So are their suddenly doting parents in Detroit.
During full-scale rebuilds, major league teams love to sell their fan base on success in the minors because it offers hope for the future, and nobody on the farm anywhere is winning more than Toledo. The Mud Hens (28-13) have the second-best record in all of minor- and major-league baseball, surpassed only by the New York Yankees.
Tigers vice president of player development Dave Littlefield told me he could hardly be more impressed.
"We get such good support in Toledo with the ownership group and the city," he said. "It's a nice match, and we're very happy to put an improved team there. It's a win-win."
We've questioned Detroit's commitment to Toledo in the past. But for now, as the Tigers make a point to raise their next wave of talent in a winning environment, those days appear in the past.
"It always starts with good players," Littlefield said of the Hens' success. "Talent is what really matters. We've committed to wanting to have a winning environment and we increased our resources to help our payroll in that regard."
After eight straight losing seasons, the proof is in the standings.
Contact David Briggs at dbriggs@theblade.com, 419-724-6084, or on Twitter @DBriggsBlade.
Guidelines: Please keep your comments smart and civil. Don't attack other readers personally, and keep your language decent. Comments that violate these standards, or our privacy statement or visitor's agreement, are subject to being removed and commenters are subject to being banned. To post comments, you must be a registered user on toledoblade.com. To find out more, please visit the FAQ.