Dave Kushma.
AP Enlarge
How about it, Mayor Bell? Councilman Collins? Are you ready to take the pledge? Will you both promise to keep your campaigns clean?
As we have done during every Toledo mayoral campaign since 2001, The Blade is publicly challenging the general-election candidates to sign the Clean Campaign Pledge developed by the Institute of Global Ethics, a Maine-based nonpartisan group that promotes ethical behavior and integrity in public and private life.
The voluntary pledge appears on this page. Its language hasn't changed since the institute composed it 15 years ago, but political campaigns at all levels surely have. They've gotten nastier, dirtier, less transparent, more polarized, and much more awash in money for go-for-the jugular TV ads.
Negative campaigning often does more to alienate voters than to educate them. And as the shameful 15-percent turnout for last week's Toledo primary makes clear, we can't afford to turn off any more voters.
That's why this year's campaign between Mayor Mike Bell and his challenger, City Councilman D. Michael Collins, needs to be civil and respectful — of the candidates as well as of voters' intelligence. The contenders must focus on issues and ideas, rather than personal insults and toxic attacks.
After they won their nominations last week, Mr. Bell and Mr. Collins said they want the same things. They will show that commitment by taking the pledge. And if the dozen candidates for Toledo City Council on the November ballot want to join the mayoral contenders in signing it, they're more than welcome to do so.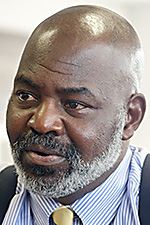 Bell
THE BLADE/DAVE ZAPOTOSKY
Enlarge | Buy This Image
As you'll see, the pledge binds the candidates, their operatives, and their supporters to fair and honest dealings during the campaign. When obscure third-party groups sling mud on candidates' behalf — an increasingly popular tactic — the candidates can't merely deny direct responsibility for the dirt dump and allow it to continue.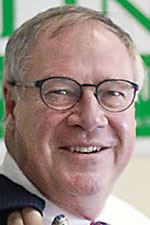 Collins
THE BLADE/AMY E. VOIGT
Enlarge | Buy This Image
The pledge requires online disclosure of the sources and amounts of campaign contributions, so voters will know which individuals and interest groups are bankrolling the candidates. It demands that candidates document their campaign claims when they're challenged. It commits the candidates to public debates; The Blade will be pleased to sponsor a mayoral debate, as we did during the primary campaign.
The Institute for Global Ethics created the clean-campaign pledge for congressional elections in its home state of Maine. It worked so well to elevate the tone and substance of campaigns there, says institute senior adviser Pat Born Smith, that the group's executives expanded the project to political races in other states, notably Ohio and Washington.
"It was an experiment at the time, but it's worked wonderfully to change things," Ms. Smith told me. The pledge is "clear, it's simple, it's pointed, and it addresses core issues in the language of ethics."
In recent years, Ms. Smith concedes, the institute hasn't actively promoted the clean-campaign pledge. That's a shame, because the values the pledge expresses are more important to the conduct of politics than ever before, and often less respected.
"But it's thrilling to know that it's still out there, and that people are continuing the tradition," Ms. Smith says of The Blade's revival of the pledge this year. "Just putting these core values front of mind resonates well with voters, even if it's something as simple as causing [candidates] to think before they act or speak."
The pledge first became a feature of a big-city mayoral campaign — in Toledo or anywhere else — in 2001, when then-Ohio House Democratic Leader Jack Ford defeated then-Lucas County Treasurer Ray Kest, another Democrat. Mr. Ford, who is running for City Council this year, said at the time that the pledge "was one of the great things that came out of this election."
Candidates in subsequent Toledo mayoral campaigns also endorsed the pledge, but it attracted much less public attention. Candidates for City Council and Lucas County offices have taken the pledge as well.
In its coverage of this year's campaign, The Blade will continue to fact-check what the candidates say, whether or not they sign the pledge. If we see bad behavior, we'll call the candidates on it.
In past campaigns, independent citizens' groups reviewed candidates' compliance with the pledge they had signed, and investigated and publicized charges of violations. It would be great if similar watchdogs emerged in the remaining weeks of this campaign, but it's getting late.
Mayor Bell and Mr. Collins, who are running without party labels, have plenty to talk about during the campaign and appear to offer Toledo voters a clear choice. Each has a substantial record in city government to run on (or from). They take different approaches to key issues of city taxation and spending, municipal services, public safety, labor relations, and strategies for economic growth.
Such matters, as well as their estimable qualifications, should be the foundation of the candidates' pitches to voters, not smackdowns of each other. To their mutual credit, neither candidate went especially negative during the primary campaign. There's no reason for them to do so now.
So sign the pledge, gentlemen. Take the high road. We'll let the voters know if you do — and if you don't.
David Kushma is editor of The Blade.
Contact him at: dkushma@theblade.com or on Twitter @dkushma1
Guidelines: Please keep your comments smart and civil. Don't attack other readers personally, and keep your language decent. Comments that violate these standards, or our privacy statement or visitor's agreement, are subject to being removed and commenters are subject to being banned. To post comments, you must be a registered user on toledoblade.com. To find out more, please visit the FAQ.