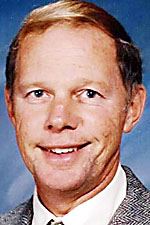 Fisher
Roger L. Fisher, 70, a high school sports star who in his long teaching career inspired students to pursue science-related professions, died Feb. 20 in his West Toledo home. He had dementia, the result of a degenerative condition believed to be related to Parkinson's disease.
Mr. Fisher retired in 2000 from Northwood High School, where he taught physics and chemistry, but also ecology and other subjects related to his interest in the outdoors, including a 1970s-era course in ichthyology, the study of fish.
Mr. Fisher motivated students to study science further and eventually to find livelihoods in health and science fields, recalled Jim Stewart, retired director of guidance at Northwood.
"[That] He was very well admired is an understatement," Mr. Stewart said. "He tolerated no nonsense. I think the kids really appreciated that."
Mr. Fisher didn't allow students to say they couldn't do something, his wife, Lynn Fisher, said.
"Even if it was the lowest ability kid in the room, he would find a way to get them to understand a concept," his wife said.
When he retired, several families of former students created a science scholarship fund at Northwood in his name.
Mr. Fisher was Northwood's varsity boys basketball coach from 1969 to 1977. At his own alma mater, Waite High School in East Toledo, he entered as a 94-pound freshman who was 5 feet, 4 inches tall. He was an ace starting pitcher for the varsity baseball team his senior year — he'd gained 10 inches by then — and played varsity basketball. He pitched Waite to an 11-1 City League season his senior year and had an 0.68 earned run average and batted .464 besides. In basketball, he scored 33 points in a game over Macomber Vocational High School, a single-game record that stood for years.
He was in the Waite athletic hall of fame.
His real passion was the outdoors. He liked fishing and storm-chasing. The annual pro football championship was the occasion for Super Bowl Avoidance Day. He and his wife went to Oak Openings Metropark, whatever the weather.
He was born April 27, 1942, to Hazel and Fred Fisher. He attended Kent State University and was a graduate of Ohio Wesleyan University, where he played baseball and basketball. He had a master's degree in science education from the University of Toledo. He taught ecology at Lourdes College from 1985 to 1995. For three years in retirement, he taught middle-school math at West Side Montessori, where his wife is head of school.
Surviving are his wife, Lynn Fisher, whom he married Nov. 27, 1965; sons, Mark and David Fisher; sister, Mary Pigott, and four grandchildren.
Family members are to have an open house from 4 to 7 p.m. Friday in the Ward Pavilion at Wildwood Metropark, with a gathering scheduled for 7 p.m. to share tributes and stories.
The family suggests tributes to the Roger Fisher Science Scholarship Fund at Northwood High School or to West Side Montessori for the development of natural playgrounds.
Contact Mark Zaborney at: mzaborney@theblade.com or 419-724-6182.
Guidelines: Please keep your comments smart and civil. Don't attack other readers personally, and keep your language decent. Comments that violate these standards, or our privacy statement or visitor's agreement, are subject to being removed and commenters are subject to being banned. To post comments, you must be a registered user on toledoblade.com. To find out more, please visit the FAQ.