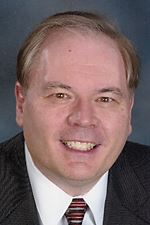 Blaszczyk
Martin A. Blaszczyk, editor of the Lagrange Street News, a monthly newspaper that connected residents and former neighbors of its namesake Polish neighborhood with news, gossip, and community functions, died Saturday at Flower Hospital, Sylvania.
The cause of death was abdominal cancer, which he was diagnosed with in March, his sister, Janice Blaszczyk, said.
Mr. Blaszczyk, 59, who earned a degree in journalism and speech from Bowling Green State University, didn't put his training to work in a professional capacity until he took over as editor of the neighborhood paper, his sister said.
He'd worked at the paper for the last eight years, his sister said.
Before then, he worked in market research for firms in Maumee and Northwood, she said.
Health issues had dogged him since his graduation in 1975 and prevented him from seeking a career in journalism, his sister said.
After retirement, he volunteered for the Lagrange Street News, then owned by the Ohio Theatre, and became editor, reporter, photographer, salesman, and deliveryman.
"People liked the way he wrote the stories. He got into writing things about the community events. He would talk to people and write their stories," his sister said.
"Marty pretty much did everything," she added. "He wrote the articles, he laid it out, and he even had his own paper route."
Billing and finances were handled by a core group of volunteers.
The Lagrange Street News has its origin in the Shopper-Herald, a Polish neighborhood publication that boasted the widest circulation in the world because it went from "Pole to Pole."
The late Rocco Pizza launched the Lagrange Street News as a monthly tabloid in 1993 and later turned it over to the Ohio Theatre.
"He made it a credible newspaper," said Terry Glazer, president of neighborhood development group United North, formerly Lagrange Development Corp., which encompasses the Polish neighborhood.
"Marty brought a professionalism to the newspaper," he said. "And he did it on a shoestring budget."
Nelda Reno, the paper's volunteer treasurer, said the shoestring budget meant only $300 to $500 was left over each month after expenses.
"He was paid a pittance," Ms. Reno said. "It was gas money. That's all he said he wanted."
The theater was sold to United North in 2009. The newspaper, which had its office inside, was not part of the deal, and Mr. Blaszczyk moved it to rented offices at a nearby funeral home.
Mr. Blaszczyk's passing also means the death of the Lagrange Street News. Its last issue was March, when Mr. Blaszczyk became too ill to continue, his sister said.
"There's going to be many broken-hearted people," said Ms. Reno, who is closing the paper's books and disposing its assets.
Other publishers were sought unsuccessfully, Ms. Blaszczyk said.
"A lot of people were very sad to see it go," she said.
Approximately 3,800 issues were distributed, mostly to businesses, and it mailed 160 copies to subscribers, mostly people who had moved away from the Polish neighborhood but wanted to keep up on it through Mr. Blaszczyk's stories and photos, she said.
Mr. Blaszczyk's other passion was working at the annual Lagrange Street Polish Festival, which Mr. Blaszczyk helped get off the ground 30 years ago. The event is dedicated to keeping Polish history alive in the Toledo area.
Mr. Glazer said Mr. Blaszczyk involved his entire family in the event, running an information booth and selling T-shirts and other items.
"You could always count on Marty, year after year after year," Mr. Glazer said.
Mr. Blaszczyk was born on Nov. 18, 1953, to Frank and Mercedes Blaszczyk. He is a 1971 graduate of Woodward High School in the north end.
He was an officer, coach, and parade chairman for the 4th Ward Old Timers Baseball Association and helped restart the 4th Ward Dartball League.
Dartball, a game in which darts are thrown at a target shaped like a baseball diamond, was his passion. It's played in bars, taverns, clubs, and churches.
His sister said their parents were such avid players that they would "drag us with them" to games and tournaments.
"Marty would laugh and say we grew up in bars," Ms. Blaszczyk said.
"Dartball looks easy, but it takes more than stepping into the batter's box and throwing a dart," Mr. Blaszczyk said in the preface to a Blade magazine piece published in 1979. "It takes a certain grip to control the dart, plus coordination and rhythm to throw darts accurately. ... Finally, a shooter must put up with the noise of the crowd when he's trying to concentrate."
He was a parishioner of St. Clement Catholic Church and served as a lector for 15 years and later as an usher.
"People liked his reading because he had speech classes at Bowling Green," his sister said.
He coached the Black Sox softball team sponsored by the 4th Ward Old Timers.
One of his players was Stanley Clarke, a Woodward High School product who was drafted by the Toronto Blue Jays in the sixth round of the 1981 amateur draft and played for the Blue Jays, Mariners, Royals, and Cardinals from 1983 to 1990.
Mr. Blaszczyk, who never married, is survived by his parents, Frank and Mercedes Blaszczyk, and his sister, Janice Blaszczyk.
Visitation will be from 2 to 8 p.m. Tuesday at Sujkowski Funeral Home Northpointe, 114 East Alexis Rd., where a Scripture reading will be given at 7 p.m.
A funeral Mass will be held at 9:15 a.m. Wednesday at St. Clement Catholic Church.
Memorials are suggested to the American Cancer Society or St. Clement Catholic Church.
Contact Jim Sielicki at: jsielicki@theblade.com or 419-724-6050.
Guidelines: Please keep your comments smart and civil. Don't attack other readers personally, and keep your language decent. Comments that violate these standards, or our privacy statement or visitor's agreement, are subject to being removed and commenters are subject to being banned. To post comments, you must be a registered user on toledoblade.com. To find out more, please visit the FAQ.