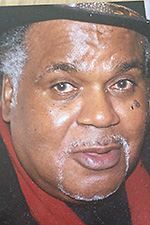 Jackson
HANDOUT NOT BLADE PHOTO Enlarge
James Jackson, the father of ex-professional basketball player Jim Jackson, died in Toledo on Sunday.
He was 70 and suffered from bladder cancer, according to his son.
Jim Jackson said his father, a Toledo resident, taught him to work hard and take responsibility for his actions early in life.
Jim Jackson, who now lives in Columbus, said his father gave him a good foundation of moral and social responsibility.
He said it was "through more than words, [and] through his actions" that his father encouraged his work ethic.
Jim Jackson, who led the former Macomber High School to its first state title, was a two-time winner of Ohio's Mr. Basketball award.
He was a two-time All-American for Ohio State.
He played for 12 National Basketball Association teams after being drafted by the Dallas Mavericks as the fourth overall pick in the first round in 1992.
The late Mr. Jackson taught Jim how to enjoy life, but also take care of others, his son said.
James Jackson was born on October 30, 1943.
He graduated from Scott High School in 1962 and was on the basketball team in 1960 when Scott lost to Dayton Roosevelt in the semifinals of the state tournament.
He was employed by the Toledo Area Regional Transit Authority for 37 years as a bus driver.
James Jackson's brother, Ron, said he enjoyed his work as a driver.
"I think he just liked the people that he met and he liked the freedom to be out on his own, driving a bus," he said.
Jerry Austin, former superintendent of transportation for TARTA, worked with James Jackson for many years.
He described his former colleague as "the eternal family man" and said he was a "very soft-spoken family man and he carried that right through his career at TARTA."
His son said he had few hobbies.
"He just enjoyed free time," Jim Jackson said, adding that his father liked exercising at the gym.
"My father took me to the Y when I was little," Jim Jackson said in a 1987 interview with The Blade.
"He tells me about it when I miss too many foul shots."
Ron Jackson also played basketball at Scott, proving that the sport runs in the family.
Of his brother, Ron Jackson, said: "He used to love to play basketball. Incidentally, he wore jersey number 22, which is what Jim adopted when he went to high school and college and pro."
According to Blade archives, in 1994 Jim Jackson said his father was instrumental in preparing him to work hard to achieve his goals.
"My father taught me at an early age that things don't come for free. I always patterned myself after that. Eventually, hard work would pay off," Jim Jackson said.
Surviving are his wife, Sandra; son, Jim; brother, Ron; and a grandson.
Details for visitation and services were not available Monday night.
Arrangements are by C. Brown Funeral Home.
Contact Kelly McLendon at: kmclendon@theblade.com or 419-724-6522, or on Twitter @KMcBlade.
Guidelines: Please keep your comments smart and civil. Don't attack other readers personally, and keep your language decent. Comments that violate these standards, or our privacy statement or visitor's agreement, are subject to being removed and commenters are subject to being banned. To post comments, you must be a registered user on toledoblade.com. To find out more, please visit the FAQ.