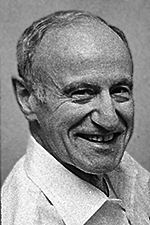 Hoffman
THE BLADE/JACK ACKERMAN
Enlarge | Buy This Image
Pete Hoffman, who from his Toledo drawing board wrote and drew the syndicated comic strip "Jeff Cobb" and illustrated the syndicated panel "Why We Say," died of an apparent heart attack Saturday in Sunset Village, Sylvania Township, where he lived the last year. He was 94.
Earlier, he lived at Sunset House and Kingston Residence, his nephew, Paul Hoffman, said. For many years, home was on Algonquin Parkway in West Toledo.
Mr. Hoffman was 4 and a kindergartner at Warren School when his first work was published — a drawing of cowboys, Indians, and horses in the Toledo Times. He started by imitating his oldest brother Jack, who drew, but essentially was self taught. He got no closer to formal training than an art appreciation course at the University of Toledo, he told The Blade in 1986, and honed his technique as a cartoonist for the student newspaper and as art editor for the yearbook.
He received a bachelor's degree in advertising and marketing. He worked about six months as an advertising artist for Tiedtke's department store.
His big break came after Army Air Corps service in England in World War II, where he became a captain and received the Bronze Star. As a UT student, he'd met Allen Saunders and Elmer Woggon, creators of "Steve Roper," a nationally syndicated strip. Mr. Saunders also was behind "Mary Worth." As a just-returned veteran, he dropped by their Toledo offices to say hello. He aimed for detail and realism, and Mr. Saunders and Mr. Woggon had been impressed with his work at UT and his wartime illustrations of comrades, Mr. Hoffman told The Blade. They asked Mr. Hoffman to work for them, and from 1945 to 1954 he was the ghost illustrator, paid but uncredited, for "Steve Roper."
From 1950 to 1978, he illustrated the single-panel "Why We Say," syndicated by General Features Corp., which portrayed the meaning behind common phrases. "Jeff Cobb" was born, he told The Blade, because "I got a little ambitious to try it on my own."
He researched, wrote, and drew the illustrated serial depicting the adventures of a handsome and rugged investigative reporter for the fictional Daily Guardian, whose city editor looked like union leader John L. Lewis. At its peak, the strip ran in more than 100 newspapers in North America, South America, and Europe. Tastes changed, Mr. Hoffman told The Blade, and the strip was phased out in the late 1970s. Syndication continued for several years, and Mr. Hoffman received letters from fans around the world through the 1990s.
He later did freelance work, mainly illustrations for educational publishers. He also did illustrations for the UT Alumni Association, his nephew said. He donated much of his archives to UT's Canaday Center.
He was a member of the National Cartoonists Society.
Peter Hoffman was born Feb. 22, 1919, the youngest of Rose and Abraham Hoffman's four children.
He did not marry.
There are no immediate survivors.
Services will be at 3 p.m. today in the Eagle Point Cemetery, Rossford. Arrangements are by the Robert H. Wick/​Wisniewski Funeral Home.
Tributes are suggested to Congregation Etz Chayim, where he was a member.
Contact Mark Zaborney at: mzaborney@theblade.com or 419-724-6182.
Guidelines: Please keep your comments smart and civil. Don't attack other readers personally, and keep your language decent. Comments that violate these standards, or our privacy statement or visitor's agreement, are subject to being removed and commenters are subject to being banned. To post comments, you must be a registered user on toledoblade.com. To find out more, please visit the FAQ.