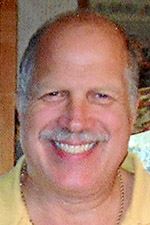 Krumnow
NOT BLADE PHOTO Enlarge
ELMORE — Lowell C. Krumnow, 56, mayor of this Ottawa County village for nearly two decades and a founding member of the community's historical society, died Sunday in his home.
Family members said Mr. Krumnow died from a malignant brain tumor. Sandra Pierce, a sister-in-law, said he was diagnosed less than a month ago.
Mr. Krumnow was appointed mayor by council in 1994 and elected to the office by residents in 1995. He was re-elected to four more terms.
His older brother, Jim Krumnow, a councilman, made an unsuccessful challenge to unseat Mr. Krumnow in the 2011 election.
Councilman Rick Claar, a close friend, said Mayor Krumnow joined village council in 1981 and was eventually named council president.
Mr. Krumnow and others created the Elmore Historical Society in 1980, in part, to partner with the village to purchase property along the abandoned railroad that was then owned by a railroad company.
Because of Mr. Krumnow's efforts, the village was able to acquire property, including the former train depot, to keep it from falling into private hands. The one-time rail bed became part of the North Coast Inland Trail, which is a multi-purpose recreation pathway.
"The purpose was to save the train depot to make sure the town had a park area," Mr. Claar said. "Because of his efforts back then, that is why we have this trail."
Mr. Claar said the trail also allowed the village to have easements to extend electrical service to the interchange gate on the Ohio Turnpike and collect income tax on the employees who work there.
The youngest of four sons, Mr. Krumnow grew up in Elmore and graduated in 1975 from nearby Woodmore High School. He was employed in sanitation at Kraft Foods' Nabisco Flour Mill in Toledo and had previously worked at Crown Cork & Seal in Perrysburg Township.
Mrs. Pierce said her sister, the former Diane Fuleky, met Mr. Krumnow on a blind date. They married Dec. 31, 1987.
Mr. Claar said Mr. Krumnow was a constant cheerleader for the village. He said he took literature, calendars, and gadgets with the village name to hand out to people at meetings and events. He said he pushed council to redesign the downtown business district to maintain a historic atmosphere.
"One of the top things that Lowell ever did was to promote the village," he said.
Jim Krumnow and Mr. Claar said Mr. Krumnow was a Halloween fanatic. They said he decorated his Victorian home for the holiday and every other year turned it into a haunted house that was open to visitors for one night.
Among the many events that Mr. Krumnow created to raise funds for the historical society is the Grub'n'Suds Motorcycle Rally in Depot Park.
Jim Krumnow said his brother also insisted that council set trick-or-treat hours for children Oct. 31, no matter what day it fell on during the week. "He didn't want to move it," he said.
Surviving are his wife, Diane; daughter, Jacqueline Krumnow; son, James Fuel-ling; and brothers, William, Russell, and Jim Krumnow.
Visitation will be from 3-8 p.m. Wednesday and 2-8 p.m. Thursday in the Crosser Funeral Home, Elmore-Genoa Chapel.
Services will be at 11 a.m. Friday in St. Paul Trinity United Methodist Church, Elmore, where visitation will begin one hour before the funeral.
The family suggests tributes to the Elmore Historical Society or the church.
— Mark Reiter
Guidelines: Please keep your comments smart and civil. Don't attack other readers personally, and keep your language decent. Comments that violate these standards, or our privacy statement or visitor's agreement, are subject to being removed and commenters are subject to being banned. To post comments, you must be a registered user on toledoblade.com. To find out more, please visit the FAQ.