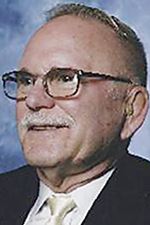 Wager
HANDOUT NOT BLADE PHOTO Enlarge
ALLEN PARK, Mich. — Jerry William Wager, a star wrestler at the University of Toledo who went on to coach and also to officiate at the highest levels of the sport he loved, died Friday at Arbor Hospice in Ann Arbor. He was 76.
He was diagnosed with ulcerative colitis last year, had trouble recovering from an operation, and spent roughly a week in hospice care before his death, family members said.
"To him wrestling was more than just a sport in that it taught you to think, it taught you rules, it taught you what you can and cannot do," said his wife Sheila Wager.
His life-long involvement in wrestling began at the YMCA in Toledo, the city where he was born in 1937.
Mr. Wager wrestled at Whitmer High School, and then at the University of Toledo, where he won the Mid-American Conference Championship in 1957. The year before, he also served as an alternate for the U.S. Olympic Greco-Roman wrestling team. He won numerous Ohio State Amateur Athletic Union championships.
He studied health and business and graduated in 1959. Mr. Wager started a wrestling program at the then-named Monroe Catholic Central High School in Monroe after college and eventually moved to Las Vegas in the early 1960s, Mrs. Wager said.
The couple, who were married 56 years, returned regularly to the region, Mrs. Wager said. They returned to Allen Park, Mich., where son Lance Wager lives, in May to be closer to family.
In Nevada, Mr. Wager worked for about 35 years as a probation officer in the juvenile court system. He created a workout room with a mat and bags for the juveniles and encouraged young people to be part of an athletic program.
He launched a successful YMCA wrestling program in Las Vegas and coached numerous championship teams, his wife said.
He officiated both freestyle and Greco-Roman wrestling, and before his retirement from officiating in 1998 he worked meets such as the European Championships and Pan American Championships.
He had the chance to officiate the 1980 Olympic Games in Moscow, but didn't go because of the U.S. boycott. Mrs. Wager said it wasn't difficult for him to turn it down.
"He says if the wrestlers can't go why should I go; the Games are for them — they are not for me," she said.
Among his many honors is an induction into the National Wrestling Hall of Fame for a Lifetime Achievement for Officials award in 2008. He also is a member of the University of Toledo Varsity T Hall of Fame.
"He was hard-driving and tenacious," recalled Dick Torio, a UT wrestler who kept in touch with Mr. Wager.
His father didn't talk a lot about himself, built others up, and had high expectations — of others and himself, Lance Wager said.
"He always expected your best … and always gave you his," his son said.
He is survived by his wife Sheila; sister, Nancy Ridout; sons, Marc and Lance; five grandchildren, and three great-grandchildren.
Visitation will be held at Howe-Peterson Funeral Home in Dearborn, Mich. from 3 to 9 p.m. Wednesday and starting at 5 p.m. Thursday, followed by a 6 p.m. memorial service.
The family suggests tributes to the National Wrestling Hall of Fame, 405 West Hall of Fame Ave., Stillwater, Okla., 74075.
Contact Vanessa McCray at: vmccray@theblade.com or 419-724-6056, or on Twitter @vanmccray.
Guidelines: Please keep your comments smart and civil. Don't attack other readers personally, and keep your language decent. Comments that violate these standards, or our privacy statement or visitor's agreement, are subject to being removed and commenters are subject to being banned. To post comments, you must be a registered user on toledoblade.com. To find out more, please visit the FAQ.