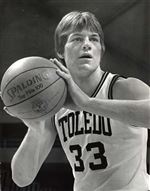 Dick Miller
Dick Miller, a University of Toledo basketball star from his freshman year on, whose wits, brawn, and talent helped lead the Rockets to conference championships and the NCAA Sweet Sixteen, died Jan. 11 in a Romulus, Mich., hotel of an apparent heart attack. He was 55.
In recent years he lived in South Africa, but had returned to the United States for the Christmas holidays and was about to fly back, his daughter Andrea said.
Mr. Miller worked for Centron Energy SA, based in Johannesburg, according to his LinkedIn profile, and was owner of RMM Marketing Group, a business consulting firm. Much of his career was with Detroit-area automotive-related firms, said Karen Miller, his former wife. He formerly was a district sales manager for Toledo Molding & Die.
He was born Richard Miller on April 26, 1958, in Milwaukee to Mary Pat and Francis Miller. He'd been a star at St. Thomas More High School in Milwaukee and was recruited to UT by legendary coach Bob Nichols. He was a forward and proved to be an effective defensive player and rebounder — he was third in UT history when he graduated — in an era when the Rockets often dominated the Mid-American Conference.
"He was very tough-minded. He was disciplined. He was a hard worker," said Mark Schreiner, a UT assistant athletic trainer at the time. "Dick was a critical part of the teams he played for, and he left a pretty strong mark in the history of UT basketball."
Mr. Miller played on two MAC championship teams. The 1979-80 team advanced to the NCAA tournament's final 16 by upsetting the University of Iowa.
"I always felt that Dick was the best player on our team," said Jay Lehman, a teammate who was a point guard. "He did all the little things you wanted a guy to do on the basketball court along with score points and do a ton of rebounding as well. He played very hard all the time."
And while it was a team of outstanding players — Mr. Lehman and Stan Joplin among them — "Dick was the catalyst," Mr. Lehman said.
"Dick was a leader on the team, and led by example," said Brad Rieger, Sylvania superintendent of schools, who was a freshman on the team when Mr. Miller was a senior. "When it was crunch time, Dick wanted the ball, and 'Get out of the way, I'm going to make it happen.' He played a real physical style of basketball. He had a toughness about him."
Mr. Miller was inducted into the Varsity "T" Hall of Fame in 1987.
He was selected in the 1980 NBA draft by the Indianapolis Pacers, but he had a short-lived stateside professional career with the Pacers, the Utah Jazz, and Continental Basketball Association teams in Alaska and Montana. He played professional basketball with teams in England and Spain until about 1984.
Surviving are his wife, Lois; daughters, Andrea and Ashley Miller; stepdaughter, Kristin Ritchie; stepson, Matthew Cromwell; parents, Mary Pat and Francis Miller; brothers, Chuck, Thomas, Timothy, Gerard, Joseph, and Michael, and sisters, Mary Lavin and Anne Miller.
Memorial services will be at 10 a.m. today in St. Joseph Church, Maumee.
Contact Mark Zaborney at: mzaborney@theblade.com or 419-724-6182.
Guidelines: Please keep your comments smart and civil. Don't attack other readers personally, and keep your language decent. Comments that violate these standards, or our privacy statement or visitor's agreement, are subject to being removed and commenters are subject to being banned. To post comments, you must be a registered user on toledoblade.com. To find out more, please visit the FAQ.