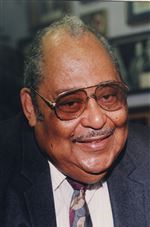 Caldwell.
James C. Caldwell, the longtime director of a North Toledo community center that now bears his name who founded a scholarship program for minority students, died Friday in Flower Hospital, Sylvania. He was 84.
Mr. Caldwell died after an extended illness, said his daughter, Kimberly.
He lived in Sylvania Township the last decade, but home for many years was the 1400 block of St. John Avenue. In 1971, he became executive director of North Toledo Community House, which served residents of all ages but focused on young people.
"We take a great deal of pride in the fact that this is a truly multi-racial, multi-ethnic neighborhood doing a lot of positive things together," Mr. Caldwell told The Blade in 1987. One attribute of the center, he said, was "to let teenagers know there's someone who's willing to listen to what they have to say.
"I figure if I die tomorrow, this is the heritage I want to leave to North Toledo," he continued.
The center was renamed the James C. Caldwell Community Center in 1999. He retired in 2004. His son, James M. Caldwell, is the current executive director.
Mr. Caldwell arrived at the community center after about two years at Midland-Ross Corp., where he was a minority recruiter and set up co-op programs for students of Scott, Libbey, and Woodward high schools. He taught American history at Woodward the previous five years.
"He was in control of those kids up there," said C. Allen McConnell, a Woodward colleague and current Toledo Municipal Court judge. "Jim really held the line in terms of those young guys. A lot of them still remember that and appreciate him."
Added Mr. Caldwell's daughter, a retired Toledo schools administrator: "He was no-nonsense. He was an imposing figure. He had a mellifluous voice. He commanded respect, and he got it."
Mr. Caldwell took particular pride in 50 Men & Women of Toledo Inc., -- "his greatest success," his daughter said -- which grants scholarships to minority high school students. He readily approached corporate executives for donations.
"He had the uncanny ability to get people from a variety of backgrounds to buy into his vision," his daughter said.
He also was a former local chairman of the United Negro College Fund's annual campaign and was chairman of a regional life membership committee for the NAACP.
Mr. Caldwell was honored by Toledo City Council at his retirement and, earlier, for his good works by Downtown Sertoma Club and the Lucas County Mental Health Board. He was a former president of the trustees' board of the Economic Opportunity Planning Association of Greater Toledo Inc. In 1975, he became the first black layman elected president of the Toledo Area Council of Churches. He also was a former president of the Toledo Council for Business.
He was born July 16, 1929, in Grindstone, Pa., to Mattie and Willie Caldwell; his father was a coal miner. He graduated Brownsville (Pa.) High School and came to Toledo seeking work. He was an Army veteran and served during the Korean War.
Mr. Caldwell received a bachelor's degree from the University of Toledo. He was a member of United Missionary Baptist Church.
Surviving are his wife, Mary Jane Caldwell, whom he married Sept. 4, 1954; daughter, Kimberly M. Caldwell; son, James M. Caldwell, and brother, Cauley T. Caldwell.
Visitation will be from 5 to 8 p.m. Friday in the Dale-Riggs Funeral Home Chapel. Wake services will begin at 11 a.m. Saturday in United Missionary Baptist Church, where funeral services are to follow at noon.
The family suggests tributes to the James C. Caldwell Community Center or a charity of the donor's choice.
Contact Mark Zaborney at: mzaborney@theblade.com or 419-724-6182.
Guidelines: Please keep your comments smart and civil. Don't attack other readers personally, and keep your language decent. Comments that violate these standards, or our privacy statement or visitor's agreement, are subject to being removed and commenters are subject to being banned. To post comments, you must be a registered user on toledoblade.com. To find out more, please visit the FAQ.