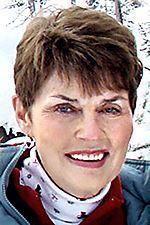 Quayle
PORT CLINTON — Julia Somsen Quayle, who was dedicated to her students as an English teacher and to her community as a civic volunteer in retirement, died Saturday in Fort Walton Beach Medical Center in Florida. She was 72.
She and her husband, Bill, who live in Ottawa County's Catawba Island Township, were on vacation in Florida. She became ill after a meal and was admitted to the hospital two days later. She died of heart failure, her husband said.
Mrs. Quayle retired in 2004 from Port Clinton Middle School, where she had taught English for 16 years. She received awards for teaching, including a statewide honor.
She'd intended her middle school assignment to be temporary. She had a master's degree in English from the University of Wyoming and taught at the university level. She went to the University of Toledo to get an Ohio teaching certificate and was a substitute in the Port Clinton schools.
District officials after a time expressed an interest in hiring her as a full-time middle school teacher. Her reply: " 'Don't hire me if you want me to stay for long,' " her husband recalled. " 'The first opening at the high school, I'm out of here.' "
But she turned down every opportunity to leave. "She loved that middle school and the students loved her," her husband said. "She loved the kids, and she would tell me, 'You know these kids, if you treat them all the same, if you don't play favorites and treat them with respect and give them your best, they return it to you in spades.' "
"That sounds hokey, I suppose," her husband said, "but that's what she did."
From childhood, she'd studied classical piano, and she taught piano students almost everywhere she lived. She retired from that as well and focused on the community. She took part in the Ottawa County Community Foundation and worked behind the scenes for the Musical Arts Series at Firelands. She served on the Ida Rupp Library and Port Clinton Parks boards.
At St. Thomas Episcopal, she'd been a pianist and served on past vestries.
She was born Jan. 5, 1942, in Salt Lake City to Dorothy and Leo Somsen. She grew up in Cokeville, Wyo., and was valedictorian of her 1960 high school graduating class there.
She received a bachelor's degree in English, with a minor in French, from the University of Utah. She taught language arts at Utah State University.
Her husband's jobs with Ford Motor Co. led to transfers across Michigan and Ohio, and the family moved several times. During an extended stay in Ann Arbor, Mrs. Quayle developed a successful piano teaching practice. She formerly taught language arts at the General Motors Institute in Flint.
Surviving are her husband, William, whom she married Sept. 9, 1966; sons, Douglas and Matthew; sister, Sylvia Somsen Henricks, and two grandchildren.
Visitation will be from 2-4 p.m. and 6-8 p.m. today in Gerner-Wolf-Walker Fun- eral Home, Port Clinton. Services will be at 1 p.m. Saturday in St. Thomas Episcopal Church, Port Clinton.
The family suggests tributes to the Julia A. Quayle Educational Fund at the Ottawa County Community Foundation to help students who major in English or classical piano or to Strength for the Journey through St. Thomas to help children in the Dominican Republic.
Contact Mark Zaborney at: mzaborney@theblade.com or 419-724-6182.
Guidelines: Please keep your comments smart and civil. Don't attack other readers personally, and keep your language decent. Comments that violate these standards, or our privacy statement or visitor's agreement, are subject to being removed and commenters are subject to being banned. To post comments, you must be a registered user on toledoblade.com. To find out more, please visit the FAQ.